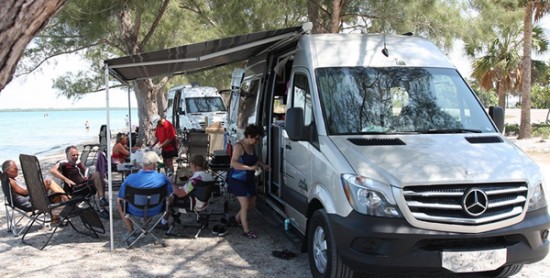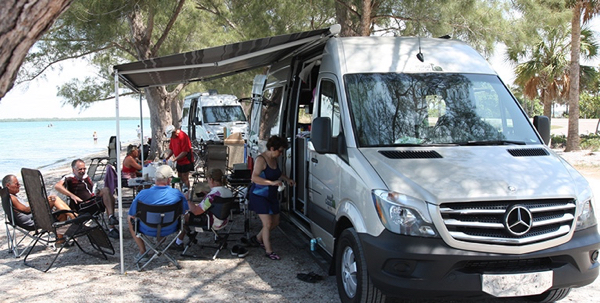 After months of poring over Web sites and sifting through forums, I've finally completed the 2016 Sprinter RV Buyer's Guide! The new guide is much bigger than the last edition, 338 pages compared to 204 pages. Why? Lots more photographs, lots more reviews, and more discussion of equipment and configuration details to help you pick your ideal Mercedes Sprinter-based small motorhome.
There's been a sea change in the North American RV market within this last year, with more innovation than in the past couple of decades – the biggest, I think, is the mainstream adoption of lithium-ion batteries for RV house battery banks. Several manufacturers have now rolled out lithium iron phosphate (LiFePO4) batteries for their RV models, and with good reason: despite a higher upfront cost, lithium batteries have many advantages over lead-acid batteries, including accepting charge much faster, containing far more usable power in a lighter, smaller footprint, and a much longer lifetime. Those who think that lithium batteries are still cutting edge should remember that we're already been using them (in many different chemistries and formats) for years already in our computers, cellphones and electronic devices.
Another technology that's finally become mainstream in North America this year (and has been in use in Europe for many years) is hydronic heating for RVs. For a diesel van like a Sprinter, a diesel-powered combination air/water heater like the Truma Combi, the Webasto Dual-Top, or Espar D5 all provide the advantages of quiet heating for the RV living quarters, hot water, and even an engine preheating loop, all tapped off the main Sprinter fuel tank so you never have to worry about running out of fuel. These integrated heaters replace the traditional propane-powered furnace and hot water heater, providing the features of both in one appliance. There's also the Swedish Alde hydronic system, which can use propane or electricity as the fuel source, and can provide heated floors.
Of course, innovation doesn't come without issues, and in this guide I've spent a fair bit of time culling the most detailed owner reports of issues with new Sprinter RVs. For example, the RV industry is finally realizing that many people want to get away from packed campgrounds and RV parks and their RVs need to be more self-sufficient, so models like the Roadtrek E-Trek are designed with more house battery capacity and power generation sources like solar and an "under-hood generator" (an auxiliary alternator). However, the E-Trek models have been going through many design iterations to arrive at a reliable electrical configuration, and I describe the specifics in the guide. Integrating these new bits of gear has its risks: builders compete against each other to see who can get the newest tech into their models quickly, and the consumer has to hope that there's been enough testing to make sure everything works well. For the most part, that's true, but there are plenty of teething troubles.
Change is happening on the Mercedes Sprinter chassis itself, too: Mercedes just announced that it will be phasing out the OM651 2.1-liter 161hp turbodiesel in late 2016, and replacing it with the OM654 2.0-liter 190hp turbodiesel. That could mean that it will be harder to find parts and mechanics familiar with the OM651 engine, which has only been in North American Sprinters for two years, especially compared to the OM642 3.0-liter turbodiesel engine that has powered most Sprinters since 2007.
My hope is that for those looking to buy a new Sprinter RV, this buyer's guide will be useful in avoiding possible pitfalls and making the perfect choice for their lifestyle. And I'll be collecting feedback to make next year's version even better!