"Discover All The Crucial Facts You Need to Know Before You Buy a Sprinter RV."
Frustrated With Big, Heavy, Gas-Guzzling RVs?

Do you love the freedom of RVing, but hate how your RV is just too big to park anywhere, or maneuver around town?

A Mercedes Sprinter RV is fuel-efficient, powerful, and compact, with all the comforts of a big RV, yet it drives like a luxury car. I've written a 338-page e-book to help you find the ideal Sprinter RV for you: the 2016 Sprinter RV Buyer's Guide.

What do people say about my book?

"What a great job you have done on the RV Buyer's Guide! Well organized, great photos, and you're right– the Guide will save me many hours of research…"
Cecil U – Boston, MA

"Your e-book is everything we needed and more to educate and inform us on the various RV options, specifications, accessories, layouts available and feel very comfortable in making our decision…"
Michael Baker – Vancouver, Canada

2016 Sprinter RV Buyer's Guide – US $34.95

Here's some sample pages from this e-book. Click on the images to see them full-size:
Driving a Big RV Could Be Eating Up All The Money You Thought You Were Saving
If you're like me, you enjoy RVing because of the freedom it gives you. You can go anywhere,  stay there in comfort, and not have to worry about the cost or hassle of finding a hotel room. And who needs a hotel room when you can open your front door and be outside in a beautiful place? But lately RVing has gotten less convenient, and a whole lot more costly. Fuel isn't cheap, and that can eat a hole in your wallet as big as the Grand Canyon.
If you are driving a big diesel motorhome and your fuel economy is only 8-14 miles per gallon, you're burning a lot of fuel (and a lot of hard-earned dollars!) just to get to your destination, and that's less to spend when you get to where you're going. Besides, a big RV may have all the comforts of home, but it probably handles as well as putting your home on top of a dinghy and trying to sail it across some rough seas. Many large RVs are just so heavy, they bounce and wallow their way over every bump in the highway, and you emerge looking like you haven't slept in days after a few hours of white-knuckle  driving in high winds or even over average state highways.
But what if your RV was built on a vehicle that's a pleasure to drive, gets great fuel mileage and handles well? One that's not so small you can't fit what you need to be comfortable, also has excellent power even up steep mountain passes, and is nimble enough for forest campsites and scenic back roads?
The Solution: A Mercedes Sprinter RV
The best answer to the problem of the giant motorhome is a Mercedes Sprinter-based RV. A Mercedes Sprinter RV can get  16-20 mpg, has great power on the highway and even at high altitudes, thanks to the very flat power curve of its turbodiesel engine, and it's compact enough to take you onto wilderness roads and camping spots other RVs can't go. All this, plus the creature comforts of its bigger RV cousins!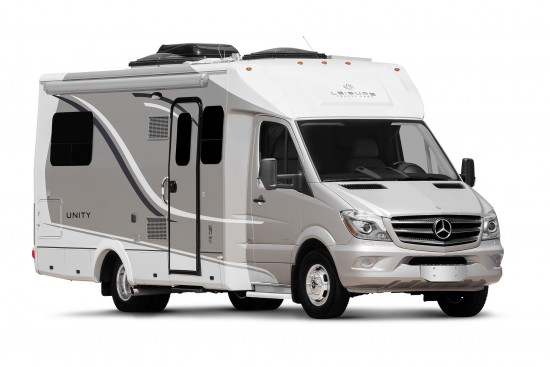 If you've looked around at RVs, you'll realize that something like 90% of the class B RVs sold in North America today are on the Sprinter chassis, so there's lots to choose from. And they're not cheap either! So it's really important for you to find out which Sprinter RVs really suit your needs the best – not just because you need to sleep 2 or 4 people, but because you want lots of light, lots of storage space, or perhaps the sleekest designs that are compact, but still offer some luxury. So which is the best-built Sprinter RV, you ask? The 2016 Roadtrek SS Agile or CS/RS Adventurous? Maybe the Pleasure-Way Plateau XL wide-body, Airstream Interstate, or Winnebago View? Or perhaps Renegade's Class C Sprinters like the Villagio or Vienna, or the Coachmen Prism? So many choices! Wouldn't you like to know what all these models are REALLY like, rather than just what the salesman tells you?
There are some RV buyer's guides out there that include Sprinter-based RV models. But typically, the "details" are hardly useful – you can find one black-and-white exterior photo, maybe an additional photo of the inside, but very few detailed specifications, and no idea of the whole range of RV floor plans that might be offered by the manufacturer. And perhaps the biggest problem – these buyer's guides leave out any information from REAL buyers, people who've owned and driven their own Sprinter RVs. Wouldn't you rather find out the truth about whether an RV is built well from someone who's traveled thousands of miles in it, and can tell you in detail about its advantages and drawbacks?
The 2016 Sprinter RV Buyer's Guide – Where You Can Find Out the Secrets Dealers Won't Tell You
I created the Sprinter RV Buyer's Guide because there wasn't an RV buyer's guide that really gave you everything you need to know when considering a large purchase like a Sprinter RV. My goal was to give Mercedes Sprinter RV buyers the "low-down" on all the popular North American 2016 Sprinter RV models: not just what the salesmen and dealerships want you to hear, but the real-world experiences of Sprinter RV owners, and all their opinions on reliability, mileage, build quality, etc. of various Sprinter RVs. Want to know what Roadtrek did wrong with the E-Trek, and has just now fixed? Want the scoop on a major problem that a number of Winnebago View owners have had? Those are both described, along with many more gems you'd need to be a Sprinter RV owner to know…
I've organized this guide so you can make an "apples to apples" comparison of all the class B and class C Sprinter RVs available: I've standardized the photo layouts and the specifications so you can compare easily. I have put extra care into double-checking the specs against the latest details from the manufacturers, and even included key details that some may not want you to know about, like all the relevant NHTSA recalls for each model of Sprinter motorhome.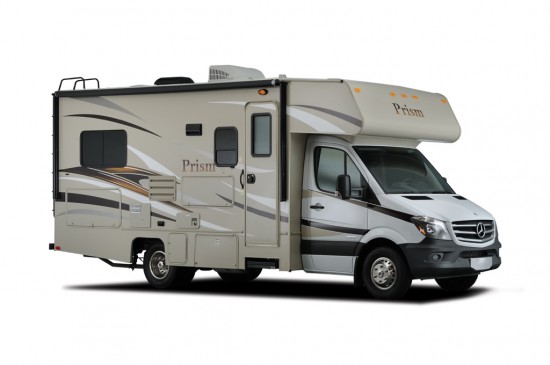 The best place to look for answers on all the 2016 Sprinter RVs – the 2016 Sprinter RV Buyer's Guide. This 338-page e-book has up-to-the-minute answers to every question you're thinking of, including details on:
Facts and figures about the North American small motorhome market in 2014 and 2015
An overview of the new RV equipment introduced this year
The four types of Sprinter RV chassis (page 8)
Eight important details to know about the Sprinter's engine (page 9)
Exterior and interior photos for 38 of the most popular Sprinter RV models
The most important motorhome weight specification defined and explained, along with 9 other weight specification details you should know when choosing an RV (pages 10-11)
An explanation of sidewall construction, roofing types and insulation materials used in Sprinter motorhomes, including possible problems and features to look for (pages 11-13)
The 5 most important features you need for winter/cold climate use (pages 12-13)
Updated, accurate specifications: 39 types of details for each of the 38 2016 models, including access to an online spreadsheet comparing all models on one page!
Real-world comments from real Sprinter RV owners on what are the best and worst features of the last few years of each model of Sprinter RV
Links to video walkthroughs, factory tour/factory construction videos, and the latest brochures for each model
All NHTSA recalls/common consumer issues with each model of Sprinter RV conversion
Brief company histories, to let you know about each manufacturer's experience and financial situation, a major concern when you're thinking about warranty support down the road!
The Most Complete Source of Details on Every Major North American Sprinter RV
What models are covered, you ask? Details for all of these 38 models of 2016 North American Sprinter RVs:
Advanced RV Ocean One and EcoRanger
Airstream Interstate
Avion Azur
Coach House Arriva
Coach House Platinum II Series 240 and Platinum II Series 241XL
Coachmen Galleria
Coachmen Prism and Prism LE
Forest River Forester MBS and Sunseeker MBS
Jayco Melbourne
Leisure Travel Vans Serenity and Unity
Pleasure-Way Ascent
Pleasure-Way Plateau FL and Plateau TS
Pleasure-Way Plateau XL and Plateau XLTD
Renegade Vienna
Renegade Villagio
Roadtrek SS Agile
Roadtrek CS Adventurous and RS Adventurous
Roadtrek E-Trek
Safari Condo LC and LX Sprinter
Safari Condo XL Plus and XL Flex Sprinter
Thor Motor Coach Siesta Sprinter and Citation Sprinter
Thor Motor Coach Synergy
Winnebago Era
Winnebago (Itasca) Navion
Winnebago Via
Winnebago (Itasca) Reyo
Winnebago View
There are plenty of different kinds of Sprinter RVs to choose from – and I hope that the time and energy I put into the 2016 Sprinter RV Buyer's Guide will help anyone who is interested in making an educated choice when buying their own dream Sprinter RV.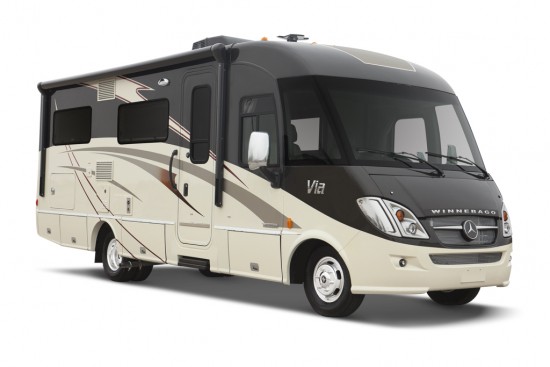 An RV is an expensive purchase – don't make a costly mistake buying the wrong Sprinter RV for you, just because a dealer assured you it was the best deal, or you found whatever was available in your area. Get ALL the information you need in one place to pick the right Sprinter motorhome for your lifestyle. Buy this e-book now, and start exploring your choices!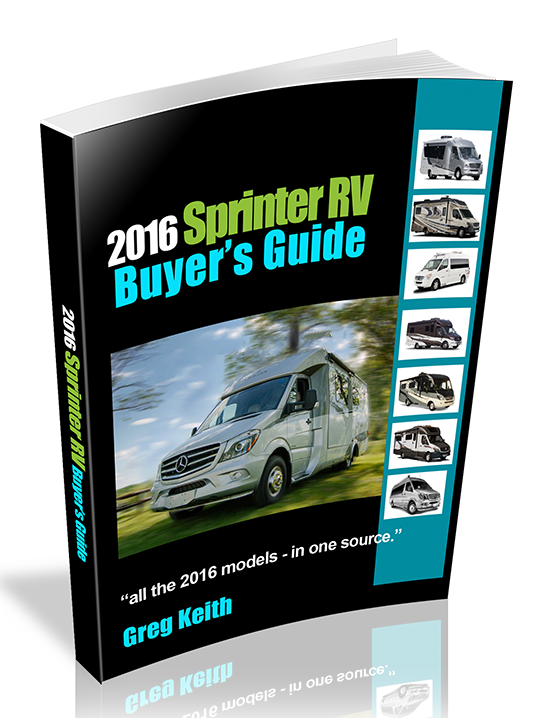 2016 Sprinter RV Buyer's Guide – US $34.95

I Don't Have an RV to Sell You – This Is Impartial Information
A new Sprinter RV costs $90,000 to $180,000. When you're spending that kind of money, you want to be sure you're getting what you paid for! Do your research thoroughly – with this e-book, you can learn about the latest Sprinter RV models, what Sprinter RV owners have said about their rigs, and which models best suit your individual needs. I don't have any axe to grind, I'm not paid by any of the manufacturers of Sprinter RVs, I just write about what I've found out by digging through forums and owner reviews, not just glossy brochures. As far as I know, there isn't a buyer's guide like this one for any kind of RV – with all the details, both good and bad, honestly told.
The 2016 Sprinter RV Buyer's Guide – More of What's Inside
Here's why I'm proud of this e-book and think it's unique:
It is substantial– Over 330 pages packed with photos, specifications, floorplans, owner's reviews, NHTSA recall details/consumer issues, for every major model of North American Sprinter motorhome available.
It will save you time – This e-book will save you dozens of hours wading through forums and manufacturer Web sites and looking at brochures. You'll get all the details those contain already!
It's impartial – I have no axe to grind, no manufacturer to support. I've gathered the information available and I'll show you what I've found, both good and bad.
It's detailed and up-to-date – The information is detailed and completely up to date for 2016. Manufacturers and Sprinter RV floorplans come and go, don't waste your time mistakenly looking at old or unavailable Sprinter RV models.
It's easy to read – Clean large format makes it easy to read on your computer screen, readable on paper if you choose to print it or works nicely on the iPad.
Below are some more actual pages from this e-book. Click on the image to view at full size: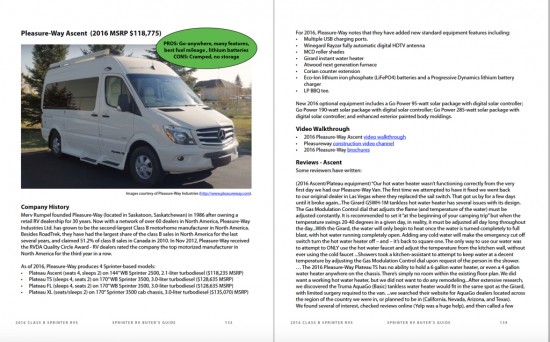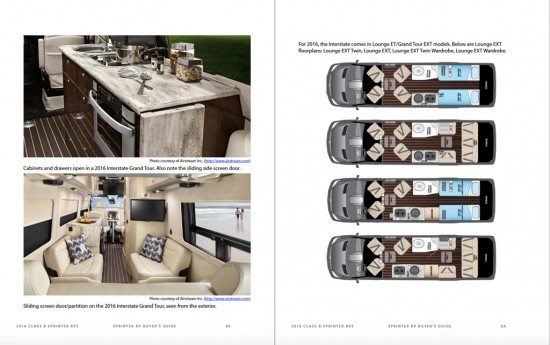 More questions? See the FAQ!
What People Say About How This Book Has Helped Them
I'm very grateful for what people have said about my book:
Michael Baker – Vancouver, Canada:  "Your e-book is everything we needed and more to educate and inform us on the various RV options, specifications, accessories, layouts available and feel very comfortable in making our decision…"

Michael Buckley – Redwood City, CA:  "This book saved me many hours collecting and sorting information on Sprinter RVs. It is well-illustrated and well-written."

Bryan Rouse – Athens, PA:  "One place to find almost everything one needs."

Cecil U – Boston, MA:  "What a great job you have done on the RV Buyer's Guide! Well organized, great photos, and you're right– the Guide will save me many hours of research…"

Bob O'Connor – South China, ME:  "Excellent resource to get a great feel and get the big picture for how the Sprinter base is converted."

Michael Gray – Santa Barbara, CA: "A very good resource for folks who are overwhelmed by all the alternatives out there for Sprinter-based RVs. Very well organized and easy to use. Useful for eliminating choices that will not work for you."

Bob Snider – High Springs, FL:  "This book gives you all the info you need to get going. Plus some good advice on what areas that may require additional expertise. An excellent overview."

Bill Tettemer – San Diego, CA: "I am so glad I purchased this book. You have done such a super job of putting so much info into it…I can't tell you enough how useful this has been to me…As you can tell, the Sprinter RV Buyer's Guide has become an invaluable reference book during our decision making process…You have really helped me."
Try This Book Risk-Free for 60 Days
Buy this e-book now, and take advantage of:

Our bulletproof 60-day money-back guarantee: if you're not satisfied, your money back, no hassles.
Quick, easy and secure payment by PayPal or by credit card
Instant digital download – 338-page Adobe Acrobat PDF (~17 MB)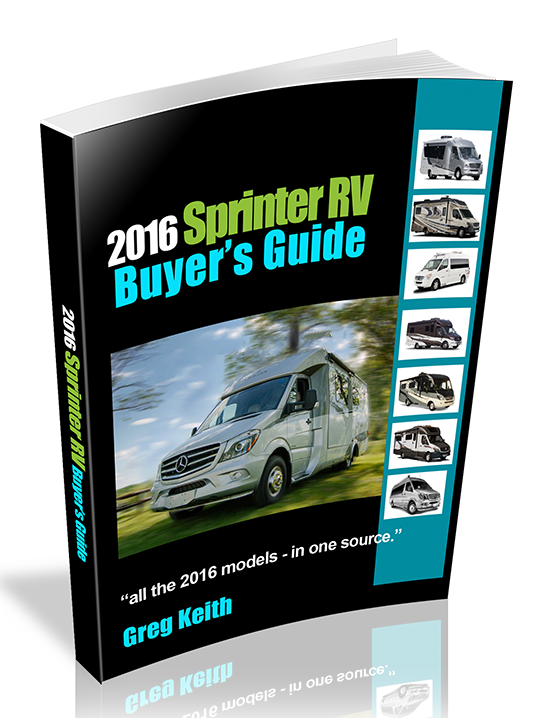 Think about it…you're getting complete, thorough and up-to-date details that you can't get from any other buyer's guide or RV salesperson, and you don't risk a penny, either. Your complete satisfaction is 100% guaranteed, and you have 60 days—that's 2 whole months—to put this book to the test. There's really no downside here at all.
If you do nothing, in 60 days you can be stuck in the same place you are now…wondering, looking around at the same choices, hoping some better solution will come along…
Or you can download this e-book right now, start finding your dream Sprinter RV, and then buy a Sprinter motorhome that will give you wonderful travels  for years to come!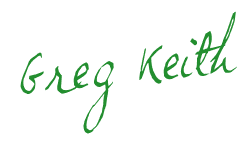 Greg Keith
Boulder, CO
P.S. More questions? See the FAQ!   Please Note: This is a downloadable e-book. You will NOT receive a physical book shipped to you in the mail. The book will be immediately available for you to download and get started right away after ordering. This book is NOT available in stores, just through this Web site.