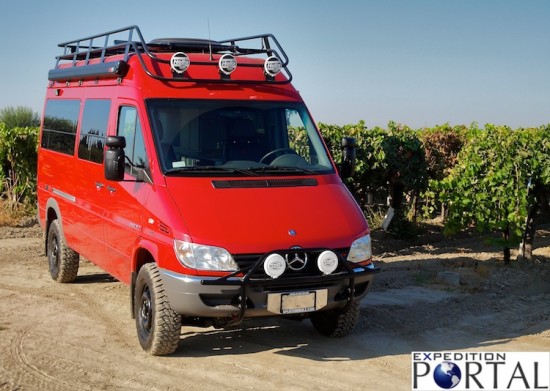 UPDATE March 2013: Well, it's March 2013 now, and Mercedes has still not brought a factory 4×4 Sprinter to the US, despite the comments by some Mercedes Sprinter dealership folks that led to this Oct 2011 post. My apologies for the incorrect information. In the meantime, both Whitefeather 4×4 Conversions and The Sprinter Store have announced their own NCV3 Sprinter 4×4 aftermarket conversions, starting around US$20K.
Great news! As you may have heard, in June Mercedes-Benz decided that they would finally bring factory-converted 4×4 Sprinters into North America for the 2013 model year. The news has been a long time coming (I wrote in Sep 2010 about the Sportsmobile and Sprinter Store 4×4 Sprinter prototypes, and in May 2011 about Whitefeather's 4×4 Sprinter conversions) and it's great to have news of a Mercedes factory-built 4×4 Sprinter this side of the pond, but there are lots of questions still to be answered:
Will the new offering include smaller-displacement , more fuel-efficient 4-cylinder diesel engines, similar to what is offered in Europe? The engine choice affects possible transfer case and differential lock combinations which can be offered
Many think the North American 4×4 offering may include a "4Matic" full-time 4WD option, but may not include other types of 4×4 for now
What will the price be for the 4×4 option? Not known yet, but in Europe the option adds about 10,000 euros to the price. That might be a hefty add-on for North American Sprinters, when by comparison the 4×4 option on a domestic van adds about US$5000 to the sticker
In the meantime, we'll just have to wait for more news. All sorts of changes may be tied to yesterday's news that Ernst Lieb, Mercedes-Benz CEO was dismissed and replaced by current Mercedes-Benz USA CFO, Herbert Werner. Rumors are that this change was not caused by Lieb's leadership, but by his personal habits.
In other 2012 Sprinter news, 2012 Sprinter models will be available on the lots later this month, according to dealers. Interested in 2012 Sprinters? The 2012 Sprinter Cargo Van 2500 & 3500 Ordering Guides are now posted on my Resources page.
Gallery – Sportsmobile 4×4 Sprinter Prototype
Will it look like this? Probably not, but these are shots of Sportsmobile's T1N 4×4 Sprinter prototype (courtesy of Scott Brady, Expedition Portal). The van was sold to private owners and now resides on the West Coast.