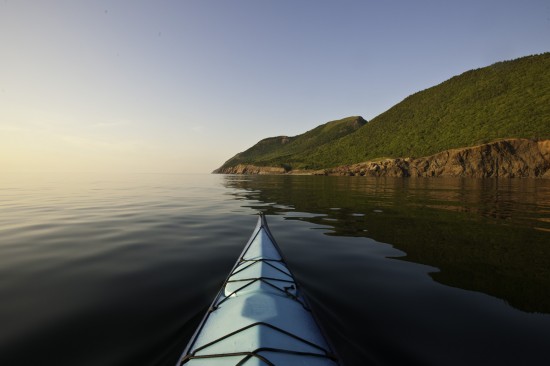 Artist Peter Kitchell moved to San Francisco from New England at an early age: "The family moved to San Francisco when dad got a job designing skyscrapers. The city was kid friendly back then, or a least we saw it that way. It was small enough, you could ride a bike from one end of the city to the other and we did with our neighborhood gangs. We hung out in Golden Gate Park, the Presidio, Playland at the beach and the Cliff House, before it burned down…Mom designed and we all worked on building a small vacation house with no electricity 30 miles up the coast from San Francisco. I now know how amazing it was to have grown up with such freedom in a city and beach town."
By 1970, the 20-year-old Kitchell decided that he could learn more from travel than school and set off on a journey that took him through Europe, Northern and Central Africa, the Caribbean and US, and then traveling throughout Africa: "I had a newly outfitted Land Rover in which I planned to cross the Sahara, so we headed across to Morocco. We stayed high (no joke) in the Atlas mountains heading east towards Algiers. Once there, the authorities made us assemble a trans-Saharan caravan of assorted camper vehicles before we could cross the desert. Many months later, more than half the vehicles had made it to the Gold Coast. We were all thinner, most of us sick and a lot smarter."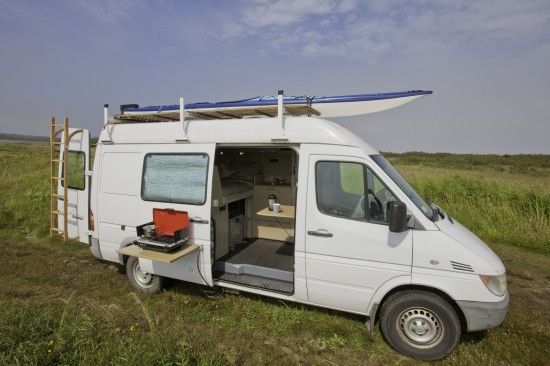 "When I returned to the Bay Area, I put together a show from that long trip (this was to become a main pattern in my life: travel, collect imagery, return, and report those travels in the form of a show). Over the next ten years I made my living by doing house painting and cabinetwork until the sales from my paintings began to support me. In the early 1980s, posters of my abstract paintings became popular across the globe; selling throughout Australia, Asia, Europe and the Americas; launching my career as a fine artist."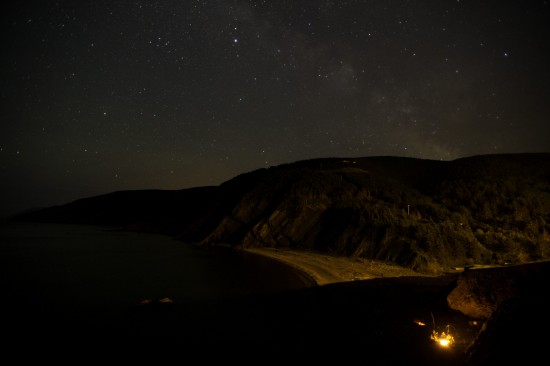 "The 1980s were golden. The economy was flying high and I had shows in New York, Los Angeles, and Chicago. Even so, I could only afford to replace my long-gone Land Rover with a 1960 Ford Ranchero, but I was able to cherry it out for camping in the desert. I spent most springs in the Southwest continuing to paint landscapes."
In the mid-1980s, Peter moved with his wife Gayle to a 40-acre farm in Massachusetts: "The dense and vibrant nature of New England was so different from the West Coast, especially the perfect little villages…Within a couple of years, I was building a house and studio in a meadow that previously had nothing but an abandoned stone foundation filled with lilies."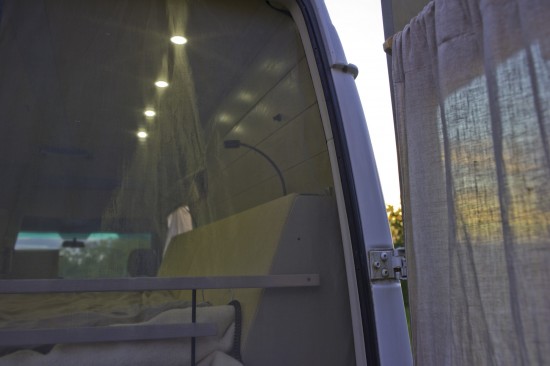 In 2012, Kitchell finished converting a T1N Sprinter into his latest camper vehicle. His Sprinter conversion is built along the lines of a comfortable, yet cozy yacht, with lots of storage space for housing his photo gear: "I am a printer and photographer these days, more than a painter, mixing my media in the digital realm…I use bits and pieces of painted information as color and texture and let the photographic information carry the story…Travel is still my muse…my Sprinter van is set up so I can be on the road in remote parts for weeks or months on end."
Peter's trusty sea kayak often rides on the Sprinter's roof, enabling a unique photographic viewpoint that he's employed in many beautiful spots.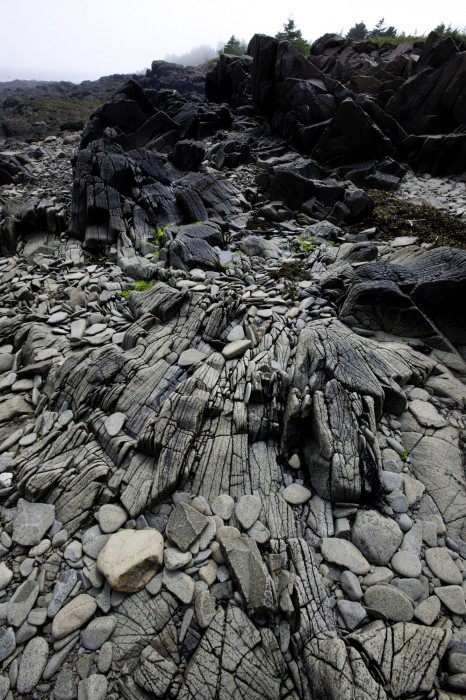 His paintings, he says, "…are not really abstract," but rather, "are objects, pictures of things. The paintings are elements of a story that unconsciously suggest 'something.' I am successful if I can figure out what they suggest in a universal way…creating a picture story."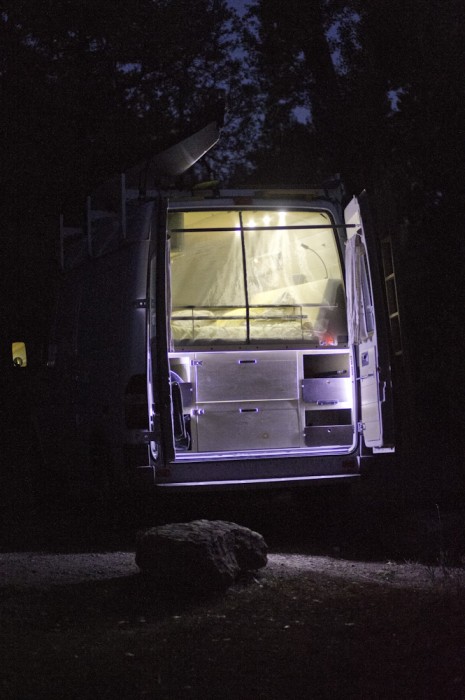 "Color is like music. One color is meaningless by itself, it takes its meaning from its relationship to other colors, from the rhythm of its structure."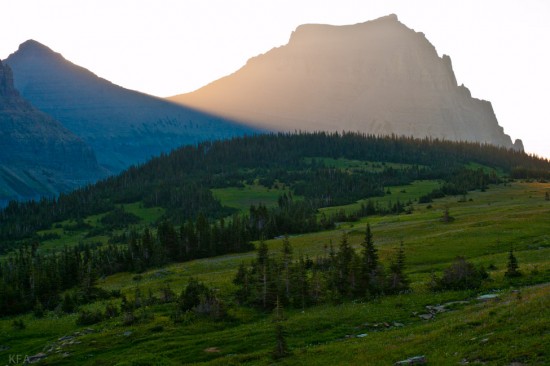 All images copyright Peter Kitchell, Kitchell Fine Arts – see more of his art at peterkitchell.com.
what I like is interesting weather
winds that blow my van all over the road
they bring in storm cells spreading far across the prairie
watching the sky
out of a road weary stupor
I'm brought back to life by her quickly changed mood
another still, silver, washed out day
my god! it's Sunday
I'll sleep in till 8:30
campsites now bare
everyone else is on the road
edging towards tourist infected areas today
out of the car
take a picture
back into the car
how am I different?
reassured, my camera is bigger
Gallery: Peter Kitchell's DIY Sprinter Conversion