Reader Bob Summers got in touch about his latest camper build, a 4×4 Mercedes Sprinter DIY camper van. Not only does Bob live on the big island of Hawaii, but he also travels with a few friends, and the build had to accommodate for cold, heat, and furry friends too! Bob was kind enough to give me the low-down on his build.
What were your reasons for doing this camper conversion on a Sprinter?
I love camping with my dogs up near the top of the volcanoes on the big island (of Hawaii) and have built several camping units, but the 4×4 Sprinter van seemed perfect for what I wanted.
What were your major design goals?
I wanted to be able to camp comfortably, cook meals and even watch a video if I wanted to. It gets very cold at high altitude, so I wanted a forced-air heating unit that used diesel from the main tank. Also having a cassette toilet was part of the plan, just for the sake of decadence.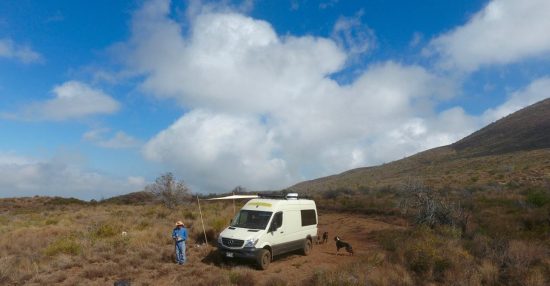 Did you create a plan on paper or in a CAD program?
No, I used the tried-and-true masking tape on the floor method for planning.
Did the final van layout end up being what you envisioned, or did you have to change a lot as you went along?
Since the entire van was just a concept until I started cutting into it, I got what I was shooting for. I knew the use was for at most two overnight stays, so a shower was not needed, and I wanted the short wheelbase for 4×4 work (had I wanted a shower, I would have gone for the longer wheelbase). Just being able to get a Mercedes Sprinter 4×4 in Hawaii was amazing, really, and the guys at Honolulu Mercedes-Benz were great to deal with.
What are the features of your camper design that you feel turned out the best?
The Dometic sink and stove top are just a wonderful design, and when combined with the stainless-steel counter top, make a nice-looking install and are super easy to clean. I really like the composite drawers, which are intended for marine applications but work super well in this camper. Plenty of storage for what I need, and the plug-and-play drawers are great, I will use them again for sure.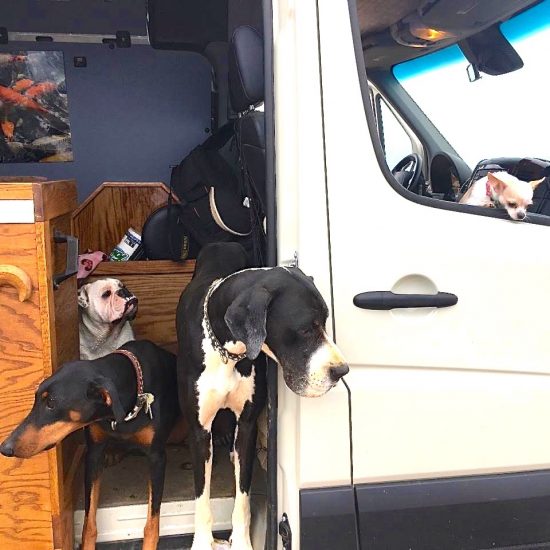 Many people attempting a DIY Sprinter conversion are intimidated by at least some aspect of the conversion, whether it's cutting into the metal to mount windows or a fan, or doing the electrical or plumbing work. Was there an aspect that you were dreading?
Cutting into the roof to mount the Fantastic fan and the Bowmar hatch seemed daunting at first, but it turns out both fit easily between main structural members without any changes, and they've worked flawlessly ever since.
About how long did the conversion take you to design and build, and roughly how much did it cost?
I spent about three weeks doing the conversion, and since it was for use in Hawaii, I did not go with a lot of insulation (except in the roof) which saved a lot of time. Same for the interior walls, which I removed, then replaced since the color and texture were just fine for my use. I had the front swivel seats installed at the dealership in Honolulu. I ended up spending around US$4000-$5000 for the equipment I used for the build.
What was the toughest component to install, maybe the heater? Can you give a brief run-down on the heater install process?
The diesel heater was a pain in the butt due to lack of proper documentation. I had previously done an install of the same heater in another camper I built and it had great instructions. Be careful from whom you buy an imported product, because documentation can be a blessing or a nightmare!
Do you have a rough cost estimate of all the money you put into the build in terms of equipment?
Around US$4000-5000 went into the build, besides the cost of the van.
What do you think of the 4WD on your Sprinter, does your van have the low-range option with transfer case?
Yes, I have the 4WD with low-range transfer case. I hate to say it, but the Mercedes-Benz 4×4 is not all that great compared to other 4×4 vehicles. If you cruise the Web, you will find many owners complaining about not being to get the van into 4×4 mode, and I have often had the same issue. It is frustrating, and you never know when you won't be able to get it into 4×4 mode. Took it to the dealer and they could find nothing wrong, but there are still times when it just will not go into 4×4 mode.
Do you find that you've really used the 4WD abilities often?
I use the 4×4 mode at the beach, and up on the trails running up and around our dear volcanoes. It's adequate but not stellar, especially compared to the burlier 4×4 vehicles I've had.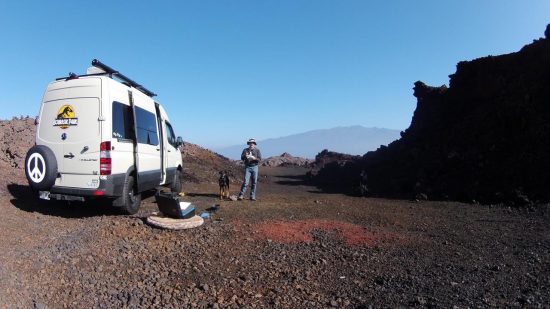 Any advantages or drawbacks of this 4WD system compared to any other 4WD vehicles you've driven/owned?
I have owned many 4×4 rigs, mostly Dodge 3500 4×4 pickups, and they are flat wonderful. Once you have had a great 4×4, you are spoiled for less than a heck of a lot of torque. In fact, I am thinking of another build on a Dodge 4500 chassis cab with 4×4 and a manual transmission, because the Dodges are as near bullet-proof as you can get. I also had a Quigley conversion on a V-10 E-350, and it too was just wonderful off road.
Bobrassic Park Sprinter Conversion: Equipment List
Here's some of the gear that Bob used in his build:
Mercedes factory driver & passenger seat swivels
Aftermarket rearview camera
Espar Airtronic D2 heater
Solarworld 300-watt monocrystalline solar panel
25-gallon water tank
Dometic HSG2370R cooktop/sink combo
2.5-gallon propane tank
Gallery: Bobrassic Park Sprinter Camper Van