Camper Van Design Considerations
So you made your plans to build your own custom Sprinter RV conversion, and now you are the proud owner of a new or used Mercedes Sprinter cargo van, just waiting for you to make some decisions about how to convert it into a Sprinter camper van.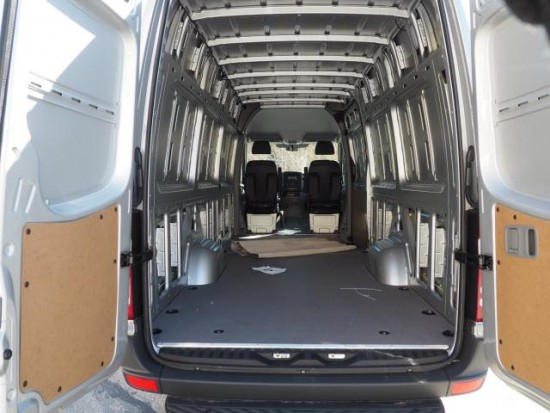 Here's some of the more major camper van design considerations:
How many people will your camper van sleep? Two, three, four? How will the sleeping berths be arranged? There are several layouts that make sleeping 4 possible – for example, you can have a rear dinette with bench seats on each side that converts into a 2-person bed, and a bench seat up front that folds down flat into another 2-person bed. Or, you might want to have just fold-down panels/bunks or folding slats for one or both of the beds, so the beds can be easily stowed or removed.
What's your camping style, and where will your power come from? Will you camp in campgrounds, or "dry-camp" in the woods ("boondocking")? If you'll be camping in campgrounds or RV parks, you might want AC electrical hookups (to connect to 30A/50A 120VAC  "shore power" provided by the campground or RV park). If you intend to be mostly boondocking, you might want to have a 12VDC electrical system powered by solar panels (and/or a small portable generator, or even a dual alternator setup), and run your appliances off your RV house battery bank. A small solar system may be more convenient than a generator as backup power. It may also cost less, weigh less, and it's definitely quieter! One to four solar panels will easily fit on the roof of the Sprinter, and with an RV solar charge controller and some deep-cycle AGM or lithium batteries, you have a portable power system that can provide you with plenty of electric power, especially in the sunnier states and provinces.
How much food storage do you need in your camper van? Remember you'll need both dry food storage and refrigerator space. You'll want to think about how many days you might be away from a town or stores, and what your food choices will be when on the road and camping. If it's just short road trips, maybe coolers are fine for now, but for longer or regular road trips, you'll want a proper refrigerator.
How will you cook in your camper van? The Mercedes Sprinter is a diesel van, so it uses only diesel (and biodiesel) fuel, but there's a wide range of possibilities:

An unmounted two-burner propane camping cookstove
An unmounted alcohol stove (like an Origo model used on boats)
A portable induction cooktop you plug in when you need it
A diesel cooktop (like the Wallas XC100) or a combo diesel stove/heater (like the Wallas XC Duo)

A propane cookstove that you connect to an undermount propane tank

How will you heat your camper van? If you're just using it in the summer time or in warm climates, maybe you don't need heat. But many people like to have heat in their Sprinter camper for 4-season use. Since the Sprinter is a diesel van, one of the most common choices for heating is to use a small diesel-powered air heater like an Espar D2/Webasto AT2000. Another option is a Propex propane heater, or a more traditional propane furnace like a Suburban or Atwood.
Do you plan to go off-road much, or on rough roads, or in snow and ice? If so, you should change the stock Continental Vanco tires out for some beefier versions with a tread designed for off-road traction.
When you've made these major decisions, these can lead you to make more choices about the following items of camping equipment that you might want for your Mercedes Sprinter camper van:
Refrigerator (3-way, 2-way, DC-only? Top-opening or front-opening?)
Stove/cooktop (Diesel, propane, magnetic induction?)
Air heater (Diesel air heater, propane furnace?)
Beds (Bunks, fold-down, pop-top, folding bench seat/sofa bed?)
Insulation (Spray foam, fiberglass batts, rigid foam?)
Flooring (Hardwood, laminate, vinyl?)
RV windows (Fixed, camper windows with screens & shades, skylights?)
Window coverings (Blinds, shades, curtains, stick-on, button-on?)
Ventilation (Screened windows, powered fans?)
Hopefully, when all this equipment is installed and your Sprinter camper van is finished, you'll be more than satisfied with the results. A custom Sprinter RV conversion you built yourself!