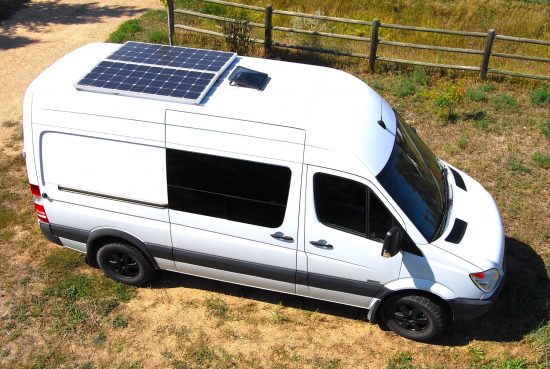 UPDATE: VAN SOLD! Thanks for the interest, the van was sold in December 2016.
Want your own built-out Sprinter camper van? Commercial Sprinter RV conversions start at around US$80K, and building your own can take a lot of time. I've spent the last several years building out our own camper van, and I've enjoyed the process, mostly, though it's also taken way more time than I bargained for – there finally comes a time when you'd rather be out on the road than still working on your van!
When we had kids, road trips became a little more interesting. Especially when they were small, we needed everything right now. Food, sleep, clean-ups, all became pressing issues. Fortunately, a camper solves the problem – in your camper, everything's within reach. Our Sprinter crew van has a comfortable second-row bench seat for the kiddos, and the refrigerator is right behind it, easy to get to. The water system, cooktop and sink are right there too. We wanted lots of storage and lots of counter space after our last van, so this van has that too, in spades. The solar system powers it all, and the large battery bank gives us power to spare.
Well, we have not had much of a chance to do great road trips with it lately, so now is the time for us to pass it on to some other folks who will enjoy it as much as we have. It's time to sell! We're asking US$58K OBO. If you're interested, we're just north of Boulder, Colorado, send a note to info(at)sprinter-rv.com.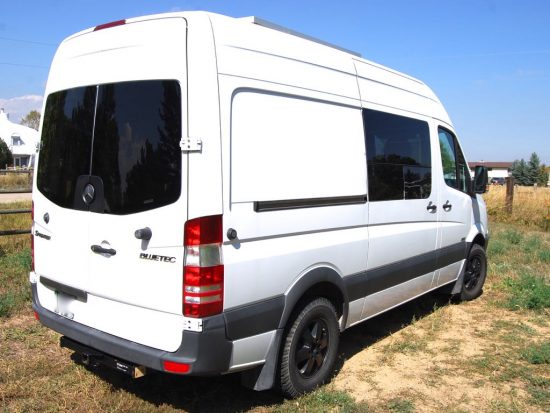 Here's a run-down of the specs on this great Sprinter camper van:
2011 Freightliner Sprinter 144″wheelbase high-roof crew van with 3-person second-row bench seat, ISOFIX attachments
188-hp 3.0-liter OM642 Bluetec turbodiesel engine
15,975 miles on the clock, just serviced by professional diesel mechanics at Linden Engineering
7.9-gallon Manchester underbody propane tank with two-stage regulator, propane system professionally leak-tested and adjusted
Dometic SMEV 2-burner propane cooktop
Dometic SMEV deep sink with folding faucet
Shurflo electric water pump, pumping from 2 x 6.5-gallon Reliance Desert Patrol portable water cans (plenty of capacity, and easy to move in and out for cleaning and filling)
320W RV solar system on roof with 2 Grape Solar GS160 monocrystalline solar panels, regulated by a TriStar TS-MPPT-45 MPPT solar charge controller
400 Ah 12VDC house battery system with 2 Concorde Lifeline GPL-L16T 6V deep-cycle AGM batteries wired in series, protected by Blue Sea thermal/magnetic circuit breakers
Nova Kool R3800 3.5 cubic foot 12VDC refrigerator, extremely quiet and efficient fridge/freezer with sealed Danfoss compressor
ScanGauge II OBDII scanner to give you constant stats on engine performance
Custom JVC AM/FM/CD/MP3 stereo system with iPod connectivity, Kicker amplifier and upgraded front and rear Clarion speakers
Tons of cabinet space, both overhead and lower cabinets – professionally-built cabinetry by custom cabinetmaker using 3/4″ maple plywood, overhead cabinets with stay-up hinges, all doors and drawers with recessed self-securing pulls and latches.
Thoroughly insulated floor, ceiling and walls with UltraTouch recycled-denim radiant barrier and loose fill insulation
Soundproofed with RattleTrap FatMat aluminum-backed butyl rubber soundproofing mat (not asphalt-based products)
Control panel with integrated Bogart TriMetric 2025RV system monitor, Euro-style LED rocker switches
All-LED interior lighting, with stock cabin lights replaced with LED bulbs, 8 super-bright white interior LED under-cabinet puck lights and blue LED strip lighting
Sturdy, lightweight 60″ x 68″ aluminum-framed bed which folds up and away when not in use, allowing use of counter space and walk-through at the rear of the van
CR Laurence screened, tilt-out camper windows at midships
Powerful Fan-Tastic Fan 6650 multiple-speed 900 cfm opening powered roof vent with remote control and rain sensor
Rolling on 245/75R16 BF Goodrich All-Terrain T/A KO E-rated light-truck off-road tires with custom black powder-coated six-spoke Mercedes alloy wheels
Curt Class 4 trailer hitch with 2″ receiver
Custom tuned and valved Fox 2.0 Performance Series rear shocks
Portable Samlex 150W inverter for laptop charging
Seat swivels on driver and passenger seats, so they can swivel and create front dining area, with front dining table that can be set up in front of bench seat
Gallery: DIY Sprinter Camper Van