Wanting to find a new or used Sprinter RV, or a base Sprinter van for your DIY Sprinter conversion project? There's at least ten online sources that have some good information:
Empty Cargo Vans (New and Used)
Used Sprinter Ambulances
A used Sprinter ambulance can make a good base vehicle for a camper conversion, especially because many already come with cabinetry and an electrical system, including an inverter. You may be able to save yourself some time, as long as the spartan gray interior doesn't matter to you. You can find used Sprinter ambulances for sale (tip: search for Type II ambulances) on:
Ambulance Trader – The Ambulance Trader site often has many Sprinter ambulances listed for sale in the US, which are Type II ambulances.
Fenton Fire – The Fenton Fire site has all types of ambulances, often including many Sprinter models, under the Used Ambulances category.
Ambunet – This site sells new and used ambulances, with both US and international listings.
Sprinter-Based Motorhomes
RVT – On the RVT Web site, you can find a Sprinter RV by doing the following:
1)  Go to the Advanced Search
2) In the RV Type drop-down, select "Class B"
3) Click "Show More Search Options"
4) In the Fuel Type drop-down, select "Diesel"
Then click Search, and you'll show all Class B Sprinter RVs listed. Of course, you can do the same search with "Class C" selected and pick "Sprinter" as a keyword, which should help you display the Sprinter-based Class C RVs for sale.
RV Trader – The RV Trader offers a search feature that lets you pick "class B" as the RV type, enter the keyword "Sprinter" and a zip code, then do a search. I came up with plenty of commercial Sprinter RV conversions for sale this way, plus some from custom conversion companies.
Motorhomefinds – This site has a search for all Sprinter-based RV listings. Last time I tried it, this displayed 6 different types of Sprinter RVs for sale, 44 different vans in all.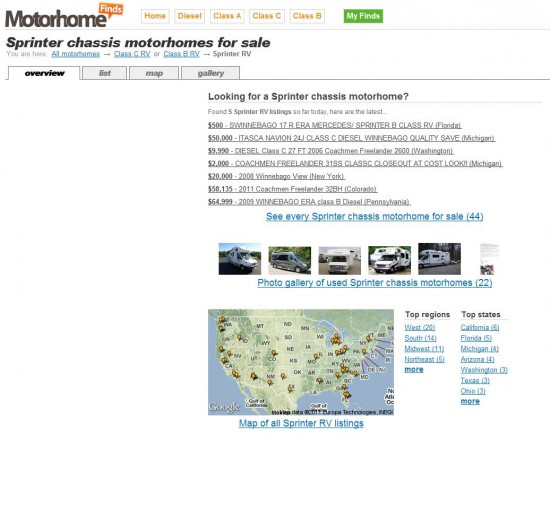 It also displays the results:
in a table, sortable by column
including price, year, length, number of people it sleeps, city and state
Have you found any better search sites for a Mercedes Sprinter RV? Let us know!
UPDATE: As one reader noted, when you actually click "See every Sprinter chassis motorhome for sale" on Motorhomefinds, a lot of that list can be populated with RVs that are not on a Sprinter chassis (when I tried it again, much of the list was Ford-based Coachman Freelanders). I've contacted the Web site designer and he's working on a fix. In the meantime, a work-around is to use the photo gallery feature instead – it's certainly easier to identify the Sprinter-based RVs there.