Wanting to find a new or used Sprinter RV, or a base Sprinter van for your DIY Sprinter conversion project? There's at least six online sources that have some good information:
eBay – Always has Sprinter vans listed, though most are cargo vans. If you want one for a DIY Sprinter camper conversion, this might be your best source, along with local craigslist listings. If you have an eBay account and are signed in, you can also get pricing from auctions which have already ended, a great way (once you've narrowed in on a particular van you want) to get a realistic idea of what others are paying in your area for a comparable Sprinter.
Commercial Truck Trader – Tons of base Sprinter cargo vans – pick "Light Duty Trucks" as the truck type, "Cargo Van" as category if applicable, "All" for Manufacturer (since you don't want to rule out Mercedes/Dodge/Freightliner) and "Sprinter van" for keywords. Granted, you will still have to wade through some Nissan NV results…
Truck Paper – Lots of base Sprinter 2500 cargo vans – pick "Light Duty Trucks" as the truck type, ""Sprinter 2500" or "Sprinter 3500" as the model if applicable, "All" for Manufacturer (again, since you don't want to rule out Mercedes/Dodge/Freightliner), pick your Country and/or State.
RVT – On the RVT Web site, you can find a Sprinter RV by doing the following:
1)  Go to the Advanced Search
2) In the RV Type drop-down, select "Class B"
3) Click "Show More Search Options"
4) In the Fuel Type drop-down, select "Diesel"
Then click Search, and you'll show all Class B Sprinter RVs listed. Of course, you can do the same search with "Class C" selected and pick "Sprinter" as a keyword, which should help you display the Sprinter-based Class C RVs for sale.
RV Trader – The RV Trader offers a search feature that lets you pick "class B" as the RV type, enter the keyword "Sprinter" and a zip code, then do a search. I came up with plenty of commercial Sprinter RV conversions for sale this way, plus some from custom conversion companies.
Motorhomefinds – This site has a search for all Sprinter-based RV listings. Last time I tried it, this displayed 6 different types of Sprinter RVs for sale, 44 different vans in all.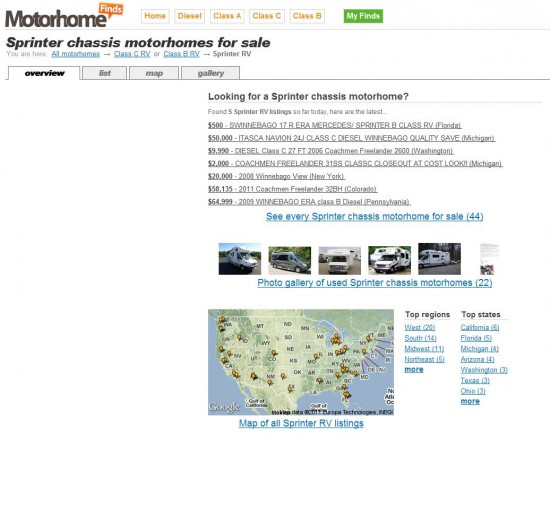 It also displays the results:
in a table, sortable by column
including price, year, length, number of people it sleeps, city and state
Have you found any better search sites for a Mercedes Sprinter RV? Let us know!
UPDATE: As one reader noted, when you actually click "See every Sprinter chassis motorhome for sale" on Motorhomefinds, a lot of that list can be populated with RVs that are not on a Sprinter chassis (when I tried it again, much of the list was Ford-based Coachman Freelanders). I've contacted the Web site designer and he's working on a fix. In the meantime, a work-around is to use the photo gallery feature instead – it's certainly easier to identify the Sprinter-based RVs there.