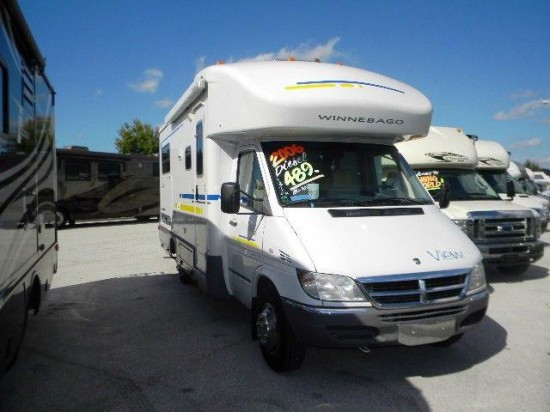 Looking for a used Sprinter RV? Many people are, since the price of a new RV is often upwards of US$100K. That's a lot of money for a house on wheels!
Well, know that if you're looking for a used Sprinter motorhome, you have plenty of choices. There are many good sites to find examples of used Sprinter-based RVs (like I've described in this blog post about finding a Sprinter RV), but here's some Sprinter-specific tips that may be useful:
Rent before you buy – rent a Sprinter-based model with the same layout as the RV you want, and go on a road trip with it to really identify your lifestyle, not just how you think you might use your RV (see my list of twenty Sprinter van and RV rental companies in the US and Canada).
If the vehicle is relatively new, check if any warranties are still in force – if it is, have the warranties transferred within the first three months, or you'll lose the chance! There is typically a $150 fee for warranty transfer.
Budget for new tires and brakes – A motorhome is a heavy beast, and with any mileage, you'll probably need brake repairs. Also, UV damage can and long immobile periods can really affect tires, so it's often best to replace them rather than risk a blow-out at speed – ensure your new tires are the "E"-load-rated light truck tires.
Be wary of the "one-off" models – numerous RV manufacturers built Sprinter-based models for a few years, then discontinued them. You'll find that you may get a bargain price up-front, but you're on your own for parts and knowledgeable support. The most common older models I've seen out and about on the highways for many years? The Winnebago View/Itasca Navion: these have been made for years in great numbers, and most still seem to be on the road. Another good bargain: older Winnebago Eras on the 2500 chassis, as long as you're traveling light (low CCC).
Check the roof – Many Sprinter motorhomes (typically cheaper class C models) were built with an EPDM or TPO rubber roof in the past. Some models may have have fiberglass roofs, but with numerous seams, rather than a single-piece fiberglass roof. For any used RV, get up on top and check the roof condition, looking for signs of damage, bubbling, holes, and peeled roofing, especially around any roof openings and seams (like the roof vents, fiberglass cap joins, etc.).
Check for sidewall delamination – sidewall delamination can occur with any type of RV that includes laminated-construction sidewalls, particularly if the base substrate is thin plywood (often the case). Delamination can be as subtle as some minor rippling around windows and entry doors, or large bubbles/distortions that cover several square feet. Often this can be fixed, but it may be an expensive proposition.
Look at wear patterns – for general clues to aging, check the tire tread wear (noting any differences in wear between the four tires), check engine mileage and generator hours. If you see differences in tire wear, check for suspension/load balance issues, you may find blown shocks/damaged springs or struts (some older Sprinter RVs equipped with airbag help springs may even have frame damage).
Check for bathroom leakage – oftentimes floors will be rotted out underneath bathroom areas if a leak has gone undetected over time.
Check underbody tanks – If the model you're looking at has underbody fresh/gray/blackwater tanks, check the tanks and their supporting frames for wear, leaks, poor attachment.
Check under the hood – I'm sure you'll do this anyway, and most will be looking at 2007 or later NCV3 Sprinters (so less chance of "the black death"), but know that you will see oil on the block around the EGR valve (typical), but you may also have DPF fouling. DPFs (like EGR valves) can be cleaned (best by driving at highway speeds at high loads to produce a DPF regeneration burn cycle), not just replaced, but should not be cleaned with water.
This isn't an exhaustive list by any means – there are plenty of comprehensive used RV inspection checklists available on the Web. However, this may help with some of the Sprinter-specific questions.
ASKING YOUR FEEDBACK: Any other typical questions about used RVs specific to Sprinter-based models? Leave me your comments and I'll answer as I can.
(Post image of a used 2006 Winnebago View 23J for sale at Camping World in Ocala, FL)