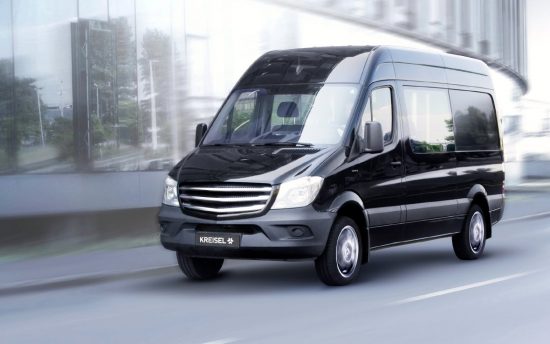 Since 2014, Mercedes has offered buyers a choice of two turbodiesel engines in Mercedes Sprinter vans imported into North America, and what was previously the "standard" engine since 2007, the 3-liter OM642 turbodiesel, now became an option and the OM651 2.1-liter turbodiesel the standard offering. The OM651, while a new engine option for Sprinters in North America, was not a new engine for Mercedes globally – introduced in 2008, it has been used in many models of Mercedes passenger cars in Europe.
However, after the VW emissions scandal, regulators in Europe and North America have become suspicious that other major automakers might be trying to pull a fast one by also using "defeat devices" in their auto emissions systems and software to make it look like their diesel vehicles emit less pollutants. In North America the EPA now has a backlog of requests for model year (MY) 2017 diesel vehicle certifications. One of those certifications (or really four of them) involve Sprinters:
OM651-engined Sprinter 2500 models (2WD)
OM651-engined Sprinter 3500 models (2WD)
California is the state with the largest auto market in the US, and is also home to the strictest emissions standards in the country, administered by the California Air Resources Board (CARB). Every year automakers that want to sell vehicles in the US have to submit them for emissions testing and certification to CARB. On April 28, 2017, CARB approved the first two models, but the latter two MY2017 Sprinter models have not been approved. As reported by Reuters last week, with the difficulty of obtaining CARB certification currently, Mercedes has dropped their bid to certify any more diesel engines for this model year, so it seems likely that MY2017 Sprinter vans in North America will only be available with the OM642 engine, not the more common and more fuel-efficient OM651. This is a blow for Mercedes, which has had some success touting the better fuel economy of OM651-engined Sprinters (with a maximum claimed 33mpg, in real world use perhaps as high as 28mpg) as a competitive advantage over the Ford Transit and Ram Promaster vans, its only real competitors in the North American full-size van category.
In the crowded cities of Europe, automakers have pushed recent diesel-engine-powered vehicles as "clean diesel" vehicles, cars producing less emissions than their gasoline-fueled counterparts, and thus helping out with the goal of reducing urban pollution. Automakers like BMW and Mercedes-Benz, two of the world's biggest car companies, capitalized on this by producing many diesel passenger vehicles. In 2016, 49.5% of passenger cars in Western Europe were diesel.
Inconveniently, increasingly studies have found that many diesel vehicles actually produce greater levels of some pollutants than gas-fueled vehicles, especially in colder conditions. Many European mayors have viewed this new research with alarm, and are thinking about or have already enacted bans on diesel vehicles in large cities like Paris, Madrid and Athens by 2025.
While people in urban centers might be able to use other forms of transport like buses, trains, bicycles and gas-powered vehicles, most large trucks have diesel engines. Diesel engines can develop immense torque with relatively minimal fuel consumption, very useful for large vehicles hauling heavy loads. Cities require trucks to function, as they are the primary means of delivering food and supplies into cities and carrying away their waste.
Mercedes has responded to the need for less polluting trucks, with trials of large electric trucks already underway with over 150 customers globally. However, even though Mercedes itself has produced many electric Sprinter van prototypes since at least 2007, and Austrian company Kreisel has an electric Sprinter Transporter powertrain kit and electric Sprinter minibuses being ordered by European customers, Mercedes is not yet selling a factory electric Sprinter van, just diesel-engined Sprinters.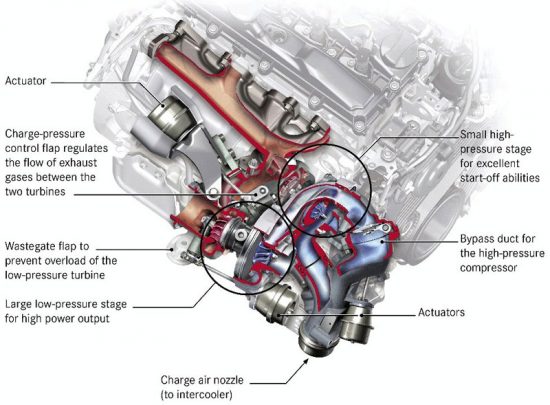 What will happen for 2018? North American production of Sprinter and Metris vans is scheduled for the end of 2018 with the new factory in Charleston, South Carolina. Rumor is that at least 50% of the vans produced will have gasoline engines (perhaps a return of the 3.5-liter M272 V6 engine), while yet another rumor holds that the new OM654 2.1-liter turbodiesel (shown above), if introduced into the Sprinter, will provide better fuel economy and more reliable emissions performance than either the OM642 or OM651 turbodiesel engines.
All we know for now is that Mercedes has some decisions to make, and we're waiting to see what they decide for the Sprinter van and its engines and emissions systems.