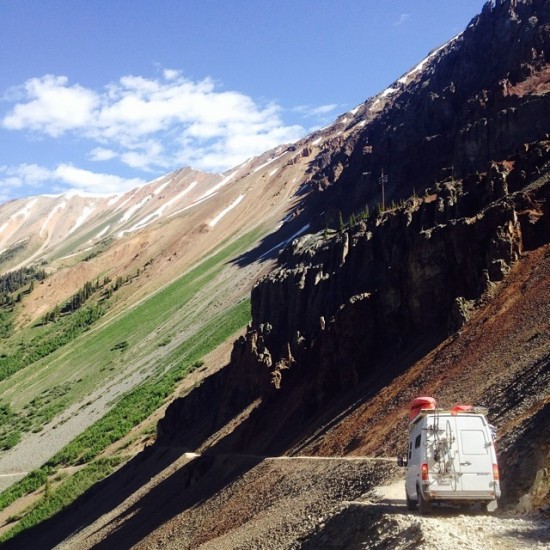 Here's how it might go down: you're somewhere in the big city, on a gray day, and you stumble across a van in a parking lot. A van with delicious aromas wafting from it, and those great smells say to you: these people are living out of their van. It's only a short leap of insanity from there to saying, why can't I do this? Why don't we ditch all this and hit the road for a while? Then reality sinks in, and you think: I don't have $80K to drop on some slick OutsideVan, how can I make this happen?
And that's where the inspiration and creativity come in, not to mention some key ingredients like dogged persistence for month after month, dealing with setbacks, disappointments, flexing that sense of humor and working harder. That for me is the great story, and Dan and Delilah are examples of that: trying to find a van and locating one in the backwoods of New York state, finding out soon after purchase that their 2003 T1N Sprinter dream ride has the "black death" and invoking the assistance of Dr. A, bringing down the ire of the authorities by attempting to start their DIY Sprinter van build in part of an old historic structure in downtown Baltimore, then moving their project to the family garage in the Adirondacks that will allow them to saw away through a bleak winter and emerge in the spring with their new creation: the Sparkle Pony Sprinter. Um, yeah: Sparkle Pony?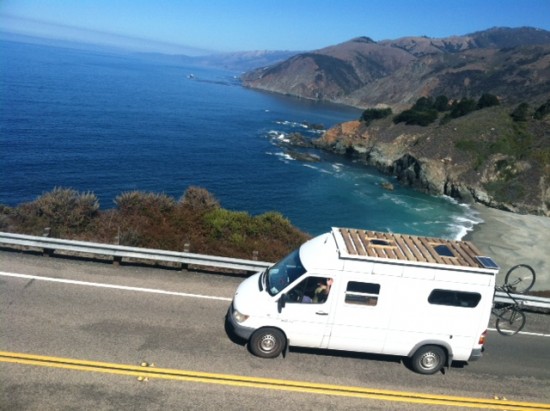 Dan and Delilah hail from Baltimore, Maryland – maybe not a city typically know for its scenery. And that's why they realized they needed a teleporter, some magical machine to get them out to the adventures they knew awaited them in the West, that place where the sunsets were big, the cliffs were high and the rock was warm. I spoke with Dan about his conversion, and he answered some questions about details, plans and the reality of doing his own Sprinter build.
What were your reasons for doing this DIY conversion on a Sprinter, and a 144″ Sprinter 2500 at that (for instance, how did you learn about the Sprinter van, and were there particular things that attracted you to the type of van you chose)? Did you consider any other vehicles?
"We chose to convert a Sprinter because it offered all the things we were looking for, other than being a bit pricier than other vehicles. The Sprinter van is a vehicle that can easily be driven in the city, highway, or on gentler dirt roads. The 144" wheelbase fits in a standard parking spot, the fuel economy is great (21 mpg after the conversion), and the high clearance allows us to explore more adventurous roads. The boxy shape lends itself to conversions more easily with its fairly straight walls and right angles, maximizes the interior space to work with, and the best part is I can stand up in it! Its also relatively inconspicuous, so "stealth" camping is possible."
"We did consider other vehicles such as an older Dodge conversion van, an ambulance, or a small moving truck but none of these vehicles could offer as much as the Sprinter could."
What were your major design goals? Did you have specific needs that weren't met by commercial conversions?
"Prior to deciding to purchase and convert a Sprinter I had spent a few months living on a 27-foot sailboat, and this experience certainly influenced my design. Sailboats are very efficient with space, utilizing everything they can to offer more space or storage, and designing pieces that have many different functions. I also learned that the more expensive and fancy the boat, the more things break and the more maintenance and costs are involved."
"So when designing our van, we wanted to create a conversion that was very efficient with space, had structures/pieces that had many different functions, and was simple. We wanted a design that would allow room for sleeping, sitting, eating, and easy cooking for us (2 people and a dog) while also having lots of room to store our gear (climbing, hiking, kayaking, and biking)."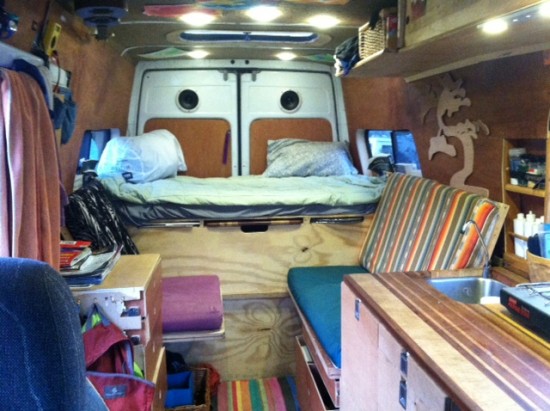 "Our best space-maximizing feature is the slide-out table that functions as a desk/dining table and also supports the back cushions of our seats to extend our bed 2 feet. Cut-outs in the bed platform allow us to hang bags to store our clothes in. Making the kitchen counter out of hardwood means we can cook and cut directly on the counter so we don't need a cutting board. The recessed sink makes it easy to clean the counter by sweeping crumbs in. Having a large and sturdy roof rack holds several kayaks or other things and the large "trunk" has room for lots of gear."
"We kept it simple by using a cooler instead of a fridge; foot pump and water jugs instead of an electric pump with permanent water tanks; a small bucket for a bathroom instead of holding tank; roof fan instead of A/C unit; propane stove instead of electric."
Did you end up doing several designs, or just one?
"Our design evolved through several different stages over the course of a couple months. We used furniture and cardboard to mock out different designs but when we finally found "the one" and started building, our design did not change much."
About how long did the conversion take you to design and build, and roughly how much did it cost?
"The design process lasted about 4 months but only got serious in the last month or two. During this time we also started scavenging for building materials from local construction sites and junkyards. The windows and moonroof were pulled from a truck bed and an old Acura, respectively. A local carpentry shop sold us heaps of their scrap wood for very cheap, which we used for many things in the build."
"We were super-fortunate to have a place to stay and a garage to use for the build. We worked on the conversion full time for about 6 days a week over the course of 3 months…the cost of the conversion came to about $3,500."
What are the features of the design that you feel turned out the best?
"I think many of the space-efficient designs turned out great, particularly the slide-out table that also extends the bed, and the clothes storage cut-outs in the bed platform. The custom cushions and upholstery fit, feel, and look great. The kitchen turned out to be super-functional with a large countertop that we can cut on, foot pump and filter that easily deliver fresh-tasting water, simple propane stove, and jumbo drawers on slides that open very easily, automatically latch shut for driving, and hold anything we can throw in them. The passenger swivel seat allows way more room whether it's just 2 people or a guest swings by. We have cozily, but comfortably, hosted a dinner with 4 people in the van."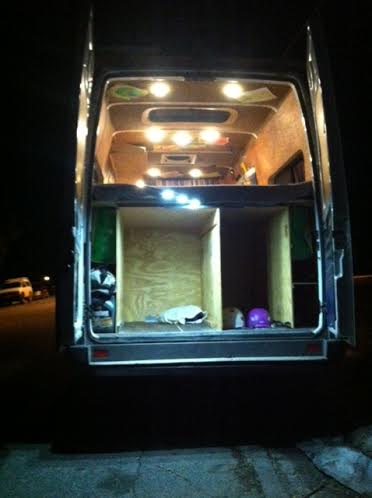 "The burly roof rack is also one of our favorites for sure. We can access it by popping out the moonroof or climbing up the holds on the back of the van and once on top we have a large, stable platform to sit, eat, nap, or watch the sunset from. Sitting on that rack in the wilderness of Utah, watching the sun set while sipping on boxed wine, are some of my best memories of the van."
What are the things you wish you'd done differently?
"I'm very happy with the design so I can't think of much. Having a board act as a wind deflector on the front of the roof rack would probably increase gas mileage. It wouldn't work with our design but having the kitchen near to the sliding door and having a stove-top that could swing outside would be a nice feature. Building seats into the roof rack that could pop open would be a nice touch too!"
More questions? Want to read some great writing about the trials of a DIY Sprinter conversion? Check out Dan and Delilah's Sparkle Pony Sprinter Van blog.
UPDATE: Looks like the Sparkle Pony Sprinter is for sale now, priced at US$18,600. You can reach Dan at damehrez (at) gmail (dot) com, or by phone at 970-903-1733.
Gallery: Sparkle Pony DIY Sprinter Conversion