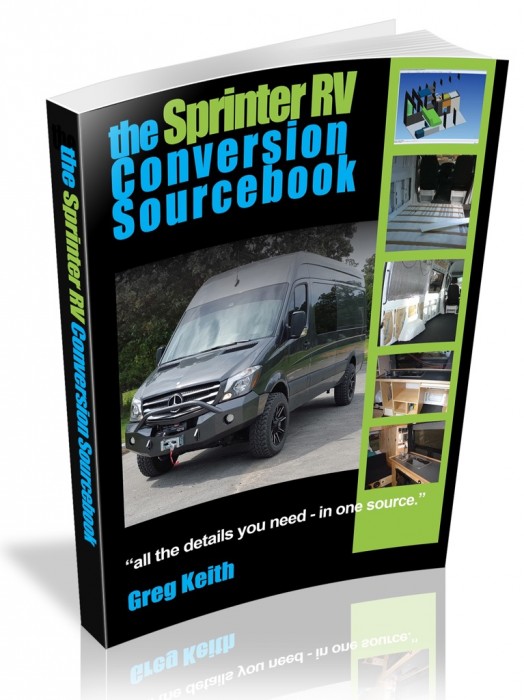 Good news, Sprinter fans – the seventh edition of the Sprinter RV Conversion Sourcebook is out. I've added a lot of new and updated information which I hope will be useful for you! If you're a Sourcebook buyer, there's an e-mail waiting in your inbox with a download link for the new edition. The new version (378 pages, compared to the 265 pages in the last edition) includes:
Choosing a Base Van
Comparison of the Mercedes Sprinter, Dodge Promaster and Ford Transit
Details on current Sprinter option packages
Sprinter suspension options described in detail, both factory and aftermarket
Sprinter 4×4 options described in detail
Wiring
New 50-page chapter including information on DC and AC wiring considerations for wiring your camper van
Basic electrical theory, battery configurations, power issues, electrical standards, primer on wires, wiring and connections, electrical tools, overcurrent protection, fuse boxes, fuse box wiring, circuit breakers, example schematics, example wiring diagrams.
Stoves
New section on microwave oven technology
Selection of highly-rated microwave ovens suitable for RV use (both microwave and combination microwave/convection oven)
Generators & Air Conditioning
New chapter including information on RV generators and air conditioners
Detailed comparison of most popular RV genset-type generators and portable generators
Description of types of RV air conditioners and technology, including detailed discussion of air conditioner technical specifications and how to interpret them
Details on RV rooftop air conditioner models suitable for the Sprinter, including specs on standard A/C units, combination A/C and heat pump units, and evaporative coolers
Van Accessories
New information on trailer hitch options, trailer hitch package and wiring for trailer hitches and trailer brake controllers
New information on Sprinter roof racks
Off-Road Modifications
New details on 4×4 Sprinter usage and modifications for off-roading
Updated information on aftermarket 4×4 conversion options
Selection guide for off-road tires and wheels for the Sprinter
Updated information on off-road accessory suppliers
There's lots more I didn't have time to do, and I already have plans for the next update. Speaking of which, please let me know what you want to see in the next update by giving me your feedback!