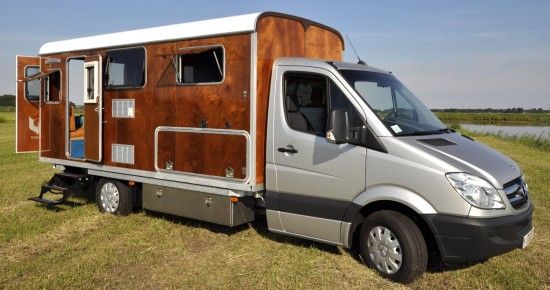 Maarten van Soest loves wood – just like his father, who had a company making upscale wooden toys. One of his friends had a wonderful wooden gypsy caravan that needed to be moved, and Maarten volunteered to transport it on the back of his truck.  'My wife and I decided to make a holiday of it,' he said. 'It was so different from normal camping, where everything is lightweight and plastic. There was a granite kitchen top, oak chairs, a cast-iron stove. It was beautiful. I said to my wife, "Someone should make such a stylish and cosy van to work with a modern car."'
Maarten decided to do it himself, and started Tonke Campers (named after his daughter) with his unique vision – a camper styled after the Dutch boats of the 1930s, compact, stylish wooden boats with gleaming teak and all handmade. Fast forward to 2012, and Tonke is now building 4 models of camper: the Explorer 1 and 2, and Fieldsleeper 1 and 2 (a slightly larger version). If you are outside of the Netherlands, Tonke can ship the camper on its steel platform to you, without the vehicle. Then you can supply your own Mercedes Sprinter to carry it – perhaps the most unique Sprinter camper conversion you could buy!
I asked Maarten about his views on campers.
What is it that draws a person to a camper conversion like yours, rather than a conventional camper van, for instance? 
Maarten:  "Three things:
1. Style: most RV's are made as if done in the 1970s… We like to go further, our conversion might be the Apple of the RVs. Well built, nice looking, simple handling, and not cheap!
2. Custom built: every Tonke is built to order: people are invited to tell us how they like to have it built, style, colors, specs. All of our customers really appreciate that.
3. Our products don't only look nice, they are very, very well-built. This is a big problem for 90% of the RVs currently built: they are built with inferior materials, inferior batteries, chargers, wiring, insulation and so on and so on! An example: we use no plywood with formaldehyde glue; no headaches in our RV's in the morning."
What are the advantages of your design over a conventional camper van?
Maarten: "Perhaps the biggest advantage is that our camper can be off-loaded easily from the Sprinter flatbed and set up anywhere you want – you now have a tiny cabin/guest house you can set up instantly in any location you like."
The video below shows how the Tonke Sprinter camper is off-loaded, and it seems pretty quick and easy.
What are your best-selling models?
Maarten: "The best-selling models are the Fieldsleeper II (Tonke Classic) and the Tonke Sprinter van conversions."
The Tonke campers include all the necessities: cabinets, beds for 3 or 4, kitchen with a 60 or 90-liter refrigerator/freezer and galley table, bathroom, and heating via a Truma Combi 4000W  diesel hydronic/air heater. The empty/loaded weights are 890/1060 kg (1960/2337 lbs) for the Explorer 1/2, and 960/1130 kg (2216/2490 lbs) for the Fieldsleeper 1/2. The campers (without vehicle) range from E49,000 – E59,000 (US$61,000 – $73,400). Full 2012 specifications and prices are listed here.
Thinking about buying one? You can rent one for a week or two, and travel around Europe with it, for around E600 (US$750) a week. A reporter for the Guardian did just that, spending an enjoyable week camping in the Tonke.
The English version of Maarten's Tonke Campers Web site is here: http://tonkecampers.nl/en/travel. Recently, the Mercedes Sprinter blog MYVAN featured a video on Maarten's unique Sprinter RV conversions.
Gallery – Tonke Sprinter Camper
ASKING YOUR FEEDBACK: What do you think the advantages and disadvantages are of building a portable Sprinter camper on a flatbed?