"Build Your Own 'Freedom Machine' In a Few Weeks, Even if You Have Just Handyman Skills – Your Dream Sprinter Camper Van!"
Here's some sample pages from this e-book. Click on the images to see them full-size:
I Could Never Find a Domestic Van, Euro Campervan or RV That Really Fit My Needs
In North America, there's lots of domestic vans and van conversions, but they're still mostly the same as they were in the 1970s: built like Army tanks, so they don't handle well on the road and the fuel mileage isn't great, and they don't have all that much space for a camper conversion, either length, width or height. You can't even stand up in many of them!
But there's Volkswagen camper vans, right, like Vanagons and Eurovans? Sure, they have really well-designed interiors, cool pop-tops, can get into tight spots, except they were last made in 2003 and still cost US$40,000, for creaky, under-powered vans that need major repairs all the time: a new transmission, then new CV joints, then a new engine… I've had plenty of friends who bought VW campers, both Westys and Eurovans, and ended up phoning me up late at night, a number of nights, actually – it takes a while to get parts for VW camper vans out to the Mojave desert, or to get one towed to the nearest mechanic in Nowheresville, Idaho, and to wait in a motel for a few days while they fix it.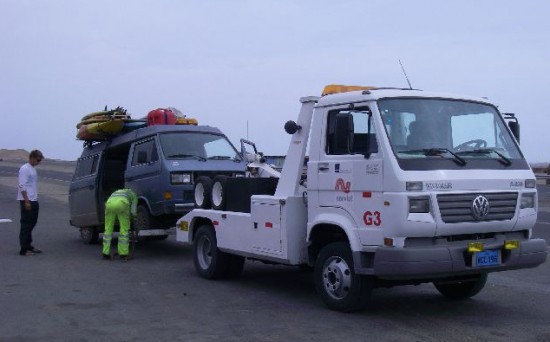 The worst part: there they were, hundreds of miles from anyone, and dependent on the mechanic's good will…a mechanic who had them by the balls, and knew it – they weren't going anywhere, until they paid the bill for everything he said was wrong, even if that list of problems became larger every time they went back to the shop…and it always did. They sweated it out in the hot sun, and they were glad to finally leave those po-dunk towns with a running van, and never go back.
So then the answer is an RV, right? But if you're like me, when I've gone to RV dealerships, I can only laugh (or cry!) at the insane price tags and the swollen sizes of the RVs on the lot, and how badly they're built: over US$100,000 nowadays for a heavy, underpowered, gas-guzzling giant that seems like it can barely handle bumps on the highway, let alone washboard backcountry roads and wilderness campsites. When you do some digging, you find out the tanks fall off because they're mounted really poorly, the cabinets are made of cheap MDF, they mostly only sleep two people…
Then I Realized A Sprinter Is The Hands-Down Best Choice For a Camper Van
I remember a key moment that set me on my course – I was reading a climbing magazine when I came across a mention of what one climber was living in, her "beloved Sprinter van" (you'll find out people use words like that about their Sprinters a lot!). She did her own DIY conversion, and was living out of it, having the time of her life. The Sprinter has more room, more power, better fuel mileage, and handles better than any other van available, it's ideal for a camper van. When I saw some other people's Sprinter conversions up close, I thought, other people can do this, why can't I? I loved my old 1977 Dodge Tradesman camper van, I spent almost two years on the road in it through Canada, the US and Mexico, but now I could build something myself that was better. Much better: a better van, way lighter, with more space, and with exactly the features I needed and wanted – no more, no less.
I would sweat over all the details until I got it right, I would do all the research to find out all the available equipment choices on the market, not just the equipment that some guy in one shop (who's been doing things the same way, year after year, because "it works for him") knows about, the standard American RV stuff, but also new, cutting-edge equipment, like AGM batteries, solar panels, hydronic heaters and cooktops that can run right off the van's fuel with no extra tanks, all the cool stuff that they have for RVs in Europe.
But Can You Really Do Your Own Sprinter Conversion?
So I put a ton ( I mean a TON!) of time into research and planning, systems design, talked to a lot of people about their Sprinter conversions, spent many a night poring over books and Web sites, and I discovered you really can build your own DIY Sprinter camper conversion. If you are willing to invest the time, care and patience, you can turn out a custom Sprinter camper van that will be the envy of everyone around you at camp, and a joy to use every time you're out in it (which will be many, many times over the years you have it! These diesels last forever). The product of all that research is the book I wish I had before my time on the road in our old Dodge – it's the Sprinter RV Conversion Sourcebook. It tells you everything I wish I had known, all about how to build your own dream camper van, using the spacious, powerful and fuel-efficient Mercedes Sprinter van.


But hold on, you say, I haven't got a professional shop with professional tools, or professional experience. There's wiring the van, and plumbing it, and installing tanks, and building cabinets, and on and on, a thousand things! Where do I even start? I understand your concern, I was there too at the beginning. That's why I've laid out all the different areas of the conversion, with different chapters organized by different types of components, so that you have a complete picture of what you'll need to know. It's a sizeable book: over 370 pages of photographs, diagrams, tables, pro and con equipment comparisons, all the information you need to get your Sprinter conversion done. Over and over, people have said to me that just having everything covered in one book as a starting place was one of the most useful things that helped them organize their ideas and thoughts and actually get started with their Sprinter conversion project.
What makes me the expert? I haven't run my own conversion company, nor have I sat beside the conversion guys and photographed everything while they were working. But I am a former professional technical writer, did it for almost 20 years – my experience is in acquiring, evaluating and organizing information. Sure, you can find some of the information I've found in Web forums – but you won't have to troll through post after post like I have, sorting out the inaccuracies and finding the missing details, getting all the choices organized and compared. You won't have to spend night after night in front of a computer screen, searching for all these stray details, wondering if you've got a complete and up-to-date list of all the options out there – I've collected them all in one place, the Sourcebook, and it keeps getting larger (more about that a little later!).
Ready to Learn Everything You Need to Know Fast?
It's all here in this e-book, including the key knowledge you'll need to get your conversion done right:
You will learn about the six major interior design considerations that lead to 13 secondary features of your design (pages 11-12)
You get nine pages of incredibly detailed photographs of excellent Sprinter conversion layouts from major European manufacturers and custom US converters – many people say these pages alone are worth the price of the book (pages 13-21)
Comparison of the pricing, reliability and features of the Mercedes Sprinter, Dodge Promaster and Ford Transit vans (pages 26-31)
Full description of the Mercedes Sprinter factory and aftermarket suspension design, optional and standard packages, and individual options (pages 35-37)
Stepping you through all the factory packages offered when building a Sprinter using the Mercedes Web site, and describing the pros and cons of all the packages offered (pages 38-41)
Detailed run-down of all the factory 4×4 Sprinter options and setup, with pictures and option codes(pages 42-43)
Details on 3 factory options that really are NOT worth the money, 6 factory options that are excellent values, and 63 factory options that can be retrofitted (pages 44-47)
The 4 REAL differences between T1N and NCV3 Sprinters, and the 5 differences which are just subjective (page 48)
The 5 tactics you can use to save you a lot of dough when buying a used Sprinter, and the 6 tactics we used when buying our new Sprinter that saved us $15,000 off the MSRP!
You get a year-by-year chart showing the 4 biggest potential mechanical problems, which years of Sprinters they typically affect, and ALL the recall details for each year, plus a detailed description of 13 other mechanical problems that can affect older Sprinters (pages 49-51)
The BEST way to install windows, stepping you through the process with a dozen full-color photographs (pages 62-68)
Comparisons of ten different soundproofing materials, with the five key characteristics of each (page 80)
A comprehensive RV plumbing chapter with details on pipes, fittings, tanks, pumps, water heaters, toilets, you name it
Fifty pages of information on designing an electrical system and wiring your camper van conversion, including a basic electricity primer, introduction to wiring (sizing, conductor types, insulation types, supporting), circuit design, load analysis, overcurrent protection (including circuit breakers, fuses, fuse boxes, distribution panels), sample electrical schematics, sample wiring diagrams
All you ever wanted to know about RV batteries (lead-acid, gel-cell, AGM and lithium-ion), including models of RV converters, battery isolators, combiners and relays (pages 171-195)
Find out about the 7 basic tools that can give you the same results as the pros when building cabinets, with the right planning and care (page 267)
The 18-step checklist for building cabinets that will guarantee you professional results (page 270)
A solar panel buyer's guide which tells you the ten most important things to look at when choosing solar panels, and a list of UL-listed solar panels warrantied for RV use (pages 200-203)
Learn the 6 key questions you need to answer BEFORE you're ready to place any of the tanks (fresh, gray or blackwater) in your Sprinter RV conversion (page 98)
The 5 most important criteria for making choices about water heaters (page 111)
Specifics on 34 models of RV inverters (pages 208-214)
A chapter on RV Internet access to help you choose among the myriad of options for wi-fi, mobile phone network, and satellite Internet access while you're on the road
The low-down on an obscure cooking option from Europe that not many people know about, which ties in very well with a turbodiesel van (page 236)
A description of microwave ovens, three recent technology innovations with microwave cooking technology, and detailed specifications for seven well-reviewed compact microwave ovens suitable for RV use
Six things you might not have realized about three-way RV refrigerators, and 5 reasons why a 12V refrigerator might be better for your Sprinter camper  (pages 259-260)
The 8 crucial components of today's modern RV solar systems (page 197)
Details on Sprinter-specific exterior accessories like custom wheels, awnings, motorcycle carriers, trailer hitches, trailer brake controllers
The 5 best choices for Sprinter-specific diagnostic software and OBDII scanners to diagnose and troubleshoot problems with your Sprinter (pages 311-315)
An explanation of the Sprinter factory heating options, and 12 different models of RV heaters specifically suited to a Sprinter RV, including propane, diesel and hydronic systems
You'll get the scoop on the 4 features that you really, really want from a good solar charge controller, and the 3 options you shouldn't waste your money on (pages 204-205)
The 8 biggest reasons why AGMs are worth the price as RV house batteries, compared to standard lead-acid models (page 186)
The FIVE criteria you must always consider for any insulation material for your Sprinter (page 81)
Eight advantages & disadvantages of using biodiesel in your Sprinter van (page 362)
Details on the four different vegetable oil conversion kits available for Mercedes Sprinters in North America, and the eight advantages & disadvantages of those VO conversion kits (pages 366-368)
Eleven different types of off-road modifications for the Sprinter, selection guide for off-road tires, list of stores where you can buy Sprinter off-road components (pages 319-335)
Information on RV generators suitable for use with a Sprinter van, including nine criteria comparing portable and genset-type generators, detailed specifications on sixteen types of portable and genset-type generators, generator output waveforms compared, possible generator problems, generator maintenance, generator sizing
A chapter on RV air conditioners, including descriptions of air conditioner technology and features (heat pumps/heat strips/hard- and soft-start capacitors), types of RV air conditioners, detailed specifications for fifteen kinds of RV rooftop air conditioners
…and a lot more details you won't find assembled anywhere else.
Below are some actual pages from this e-book. Click on the images to see them full-size:
And I'll Give You Lifetime Access to the Book As I Update and Enlarge My Knowledge
I thought long and hard about how much to ask for the Sprinter RV Conversion Sourcebook… after all, it took me many hundreds of hours of research to put all this information together, sifting through forums, combing manufacturer's Web sites, talking to people in the RV industry.
And, one of the biggest differences between my book and a conventional one is that it's an e-book in Adobe Acrobat (PDF) format. What does that mean? It means you can read it on any computer or e-reader like an iPad, and also this – I update the book frequently (I've updated the book six times, adding several new chapters and dozens of minor updates), I'm committed to expanding the book so it's the most authoritative resource available, and I make all the updates available to you at no charge, absolutely free.
Yes, I spend more of my own time and money, updating the information, adding in most cases entire chapters of new information, and removing the outdated details. Have you ever heard of anyone doing that with any physical book you've ever owned? So at first, I thought $97 was a fair price, considering all the time I'll be investing in this book as I continue to expand it. But I wanted to make the deal even sweeter, so I went down to $77. Then I finally settled on $67. However…
For A Limited Time You Can Get the Sprinter RV Conversion Sourcebook For Only $37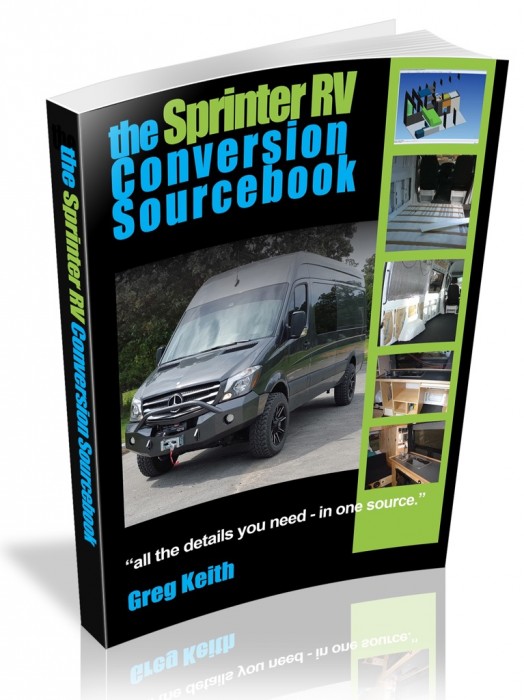 So let me ask you…could several weeks of your time (or several months: let's be honest, if you want to do it right, it'll be worth taking some time) put $50,000, or even $75,000, back in your pocket? Because that's what you'll be saving by doing your Sprinter RV conversion yourself, and ending up with a unique van you can truly be proud of, that people will admire everywhere you pull in.
Could it make it easier for you to finally start taking all those trips of a lifetime…without decimating your retirement savings…or simply to stay comfortably in all those favorite backwoods fishing or hiking spots?
You'll never know until you try. And I want to make it as easy as possible for you to do so. I know I'm probably charging much less than I should for the Sprinter RV Conversion Sourcebook. After all, you'll probably get back at least a HUNDRED times the cost of this book in a few weeks or less.
But Will the Sprinter RV Conversion Sourcebook Really Help Me?
I am honored and grateful for what people have said about my e-book:
"Your book has been invaluable to me! It's saved me tons of time in research and steered me towards options I didn't even know existed."
Art H – Breckenridge, CO

"The Sourcebook is already giving me confidence with tons of details I haven't seen anywhere else."
Vanessa N – Boca Raton, FL

"I have returned to the Sourcebook repeatedly, each time finding that information I was pursuing was summarized nicely. It is a good resource for a fairly daunting process."
Dick K – Wichita, KS

"Nowhere else have I found such a convenient reference."
Tony P – Washington, DC

"It is quite complete – everything from buying a Sprinter to all the steps in the conversion…I was really impressed that your book hit all the (Web) sites I've found – plus a lot more."
John R – North Bay, ON

"Definitely a worthwhile read for anyone considering a Sprinter conversion. This pertains to anyone doing their own conversion or purchasing an existing unit. And if you're a newbie looking for general Sprinter information, well worth it."
John Bendit – Portland, OR

"Seeing all the bits and pieces tied together is really helpful. The Sprinter forum is great but you really need to sift through a lot of crap to find the useful stuff at times."
John S – Vancouver, BC

"I appreciate the resources for information and conversion parts, along with various ideas for the conversion."
John H – Everett, WA

"The entire publication has given me a good understanding of the conversion process and has provided me the confidence to actually move forward with this dream. The definition of the process provided by the publication is invaluable."
Tom H – Temple, NH

"Just starting this process, so all of the info was valuable to me in building a base of knowledge about a Sprinter conversion."
Jim Z – Clarendon Hills, IL
Try All of This Risk-Free For 60 Days