After lots of hard work, I'm excited to announce the release of my second Sprinter e-book, the 2012 Sprinter RV Buyer's Guide. My goal was to give Mercedes Sprinter RV buyers the "low-down" on all the popular North American 2012 Sprinter RV models: not just what the salesmen and dealerships want you to hear, but the real-world experiences of Sprinter RV owners, and all their opinions on reliability, mileage, build quality, etc. of various Sprinter RVs. Want to know what Winnebago did wrong with the Era, and has just now fixed? Want the scoop on a major problem that a number of Forest River Solera owners have had? Those are both described, along with many more gems you'd need to be a Sprinter RV owner to know…
I've organized this guide so you can make an "apples to apples" comparison of all the class B and class C Sprinter RVs available: I've standardized the photo layouts and the specifications so you can compare easily. I have put extra care into double-checking the specs against the latest details from the manufacturers, and even included key details that some may not want you to know about, like all the relevant NHTSA recalls for each model of Sprinter motorhome.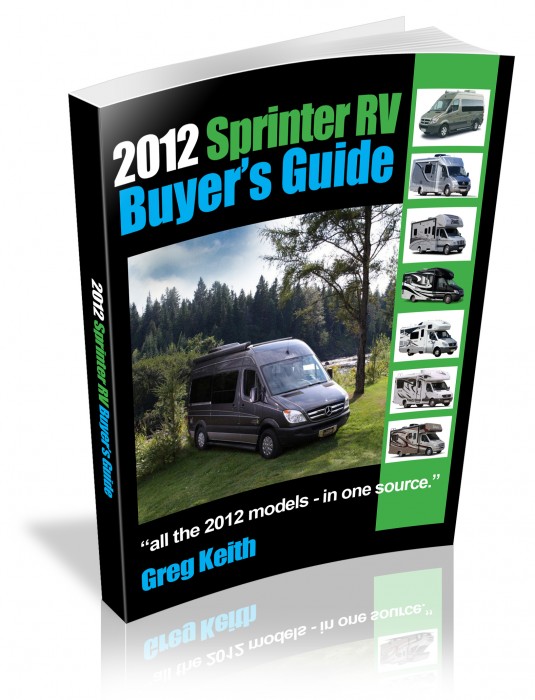 Also, the 2012 Sprinter RV Buyer's Guide is bigger and more detailed than any other RV buyer's guide you'll see – 138 pages packed with full-color interior and exterior photos of all the major Sprinter RV models available for 2012, and all available floor plans. As far as I know, there isn't a buyer's guide like this one for any kind of RV – with all the details, both good and bad, honestly told.
What models are covered, you ask? Details for all the following 2012 North American Sprinter RVs:
Airstream Interstate
Coach House Platinum II Series 240 and Platinum II Series 241XL
Coachmen Prism and Prism LE
Fleetwood Jamboree DSL, Jamboree Sport DSL, Tioga DSL and Tioga Ranger DSL
Forest River Solera
Great West Vans Sprinter Legend
Leisure Travel Vans Unity, Serenity and Free Spirit II
Pleasure-Way Plateau TD, TS & MP
RoadTrek SS Agile, SS Ideal and RS Adventurous
SafariCondo LC, LDX, LX, and XL Plus Sprinters
Thor Motor Coach Siesta Sprinter and Chateau Citation Sprinter
Winnebago Era
Winnebago View and View Profile
Winnebago Navion and Navion iQ
There are plenty of different kinds of Sprinter RVs to choose from – and I hope that the time and energy I put into the 2012 Sprinter RV Buyer's Guide will help anyone who is interested in making an educated choice when buying their own dream Sprinter RV. If the book proves valuable to you, that will be great!