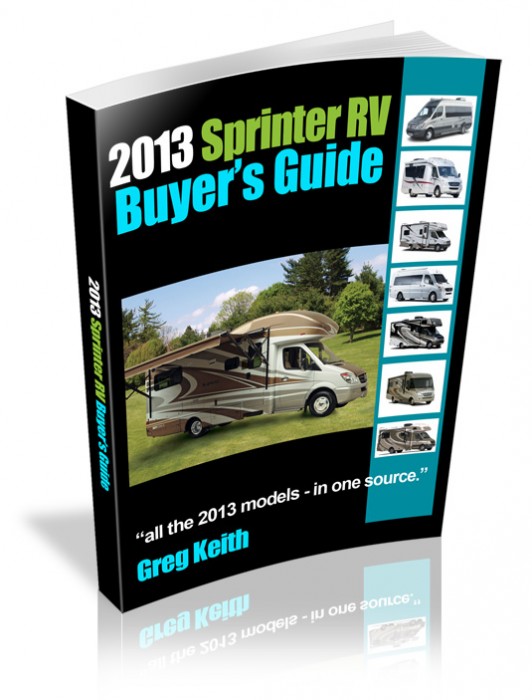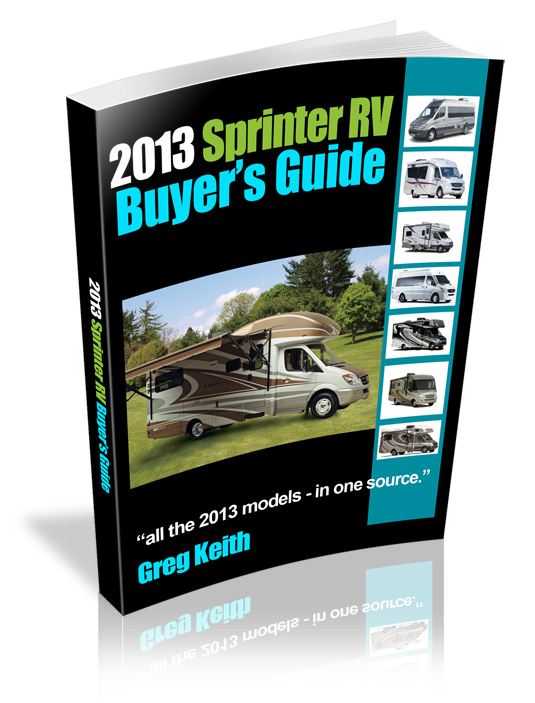 I've been spending a lot of time lately thinking about quality. It's a recurring question readers have asked ("which is the best-built Sprinter RV?", and I've tried to answer before), and as I've spent the last few months working on the 2013 Sprinter RV Buyer's Guide, getting feedback and comments, and looking at new 2013 Sprinter RV models like the LTV Free Spirit SS, the SafariCondo XLT Sprinter, Roadtrek's E-Trek, Pleasureway's Plateau RB model, I've been thinking more about what makes for the best quality. While I still can't say, "it's so obvious, it's the WhingleMaster Pro!", I now have some more thoughts about what goes into a well-built RV. The 2013 Sprinter RV Buyer's Guide is ready now, and with research I've done for the new book in mind, here's my ideas about finding the best-built Sprinter RV models:
A repeatable process – You might think that every RV is built in a "factory", but I'd argue that most North American RVs are built in a "workshop". As opposed to a factory line where almost everything is automated and processes are controlled and repeatable, most North American RVs are built in smaller quantities, mostly by hand. The process is fairly standardized, but it's still a matter of individual workmanship. I've seen some reports of poor quality in some of the big RV brands, but these are mostly the exception – especially for a Sprinter RV where the price for the finished product is US$90,000-$140,000, the bar is pretty high. And most companies stand by their product, especially when you the RV buyer contact them directly. However, these are complex and full-featured creations, so there's a lot of pieces…
Materials – Materials are mostly the same on Sprinter RV models now, but there are still some differences, usually where you can't see them. Since price is an important factor for all of us, some companies use lower-cost materials to offer their products at a lower price point. For example, some Sprinter RV models use a TPO roof, which is basically a very thin, plastic-covered rubber membrane. Would you want a rubber roof on your Sprinter motorhome? I'm not saying it doesn't work, but I'd prefer fiberglass, a more expensive choice, but more durable and not as vulnerable to the effects of tree branches scraping across the roof.  Another common example is using luan plywood in the vacuum-bonded sidewall layers of custom RV bodies: wood is an excellent and versatile material, but it absorbs water, and delamination can occur when moisture gets into sidewalls and is absorbed by the thin plywood substrate. Some companies use a non-absorbent composite material like Azdel for their sidewall substrate, so that delamination should be less of an issue.
So I did say that I would give some ideas about how this could help you find the best-built Sprinter RV, but I've been short on specifics so far. Right, here's what you should do:
First, look at all the details – Look at the specifications carefully. In the new 2013 Sprinter RV Buyer's Guide, I list complete specifications for all of the listed models. Look at the details of the sidewall construction, the roof material, and the insulation used – a fiberglass roof is the highest quality (preferably as part of a one-piece fiberglass body), rigid polystyrene foam has the best insulating qualities, and you want sidewalls framed with a medium-gauge tubular aluminum or steel. Other materials and construction may be cheaper, but not as durable. In the guide, where I've found them, I link to factory construction videos that show you exactly how the RV is being built. Watch these, and you'll probably know more than many RV dealership salespeople about the specific model you're looking at!
Second, check out how suitable it is for you – Does the Sprinter motorhome you're looking at have all the features you need: sleeps enough people, has cold climate features if you'll be needing them, is it light and compact enough for you to maneuver it easily and get decent fuel mileage, does it have the right bed placements for your needs? If you can, rent the model you want (or a similar RV) before you buy it to ensure it suits you, I've included a list in the buyer's guide of companies that rent Sprinter RV models in North America.
Third, more due diligence – Has the Sprinter model you're looking at been built for a long time? The longer it's been made, the more chances there's been owner feedback, and design/materials/manufacturing kinks have been worked out. Is there a record of the builder standing by their product? I know you'll do a thorough pre-delivery inspection like I advise in the guide, but I've also included plenty of real owner feedback in the buyer's guide, and you can usually get an  idea of a company's reputation. What are the warranties? All Sprinter RVs come with the basic Mercedes Sprinter warranties (both engine and chassis), but the coach warranty terms differ hugely – the shortest coach warranty is 1 year, the longest entire-coach warranty is 7 years!
This year, I've added over sixty pages of new information to the 2013  Sprinter RV Buyer's Guide, so it's now 200 pages of details on:
types of Sprinter RV chassis
useful details on the Sprinter's engine
important notes about motorhome weight specifications that matter
warranty fine print
pre-delivery inspection subtleties
how to pick and care for an RV generator
every 2013 floorplan for all 38 models listed
new exterior and interior photos
links to video walkthroughs, brochures and factory construction videos
much more detailed specifications than you'll find anywhere else: 39 different specifications for each of the 38 models, with access to an online spreadsheet that shows all models compared
press and owner reviews for the last several model years
NHTSA recalls and consumer-reported issues
All the major 2013  Sprinter RVs are covered, including the:
Airstream Interstate
Coach House Platinum II Series 240 and Platinum II Series 241XL
Coachmen Prism LE
Fleetwood Jamboree DSL, Jamboree Sport DSL, Tioga DSL and Tioga Ranger DSL
Forest River Solera
Great West Vans Sprinter Legend, Legend EX and Legend SE
Leisure Travel Vans Free Spirit, Free Spirit SS, Serenity, and Unity
Pleasure-Way Plateau MP, RB, TS, and TD
RoadTrek SS Agile and RS Adventurous
SafariCondo L-Series (LC, LX, LDX, LSX) and XL-Series (XL Plus and XLT) Sprinters
Thor Motor Coach Siesta Sprinter and Chateau Citation Sprinter
Winnebago Era 70A and 70X
Winnebago Navion and Navion iQ
Winnebago Via/Itasca Reyo
Winnebago View and View Profile
Unfortunately, detailed specifications and reviews on RoadTrek's E-Trek model were still not available yet, nor were they for Advanced RV's new Sprinter motorhome models. Hopefully soon though!
I hope this post, and the new buyer's guide, offers some help in answering the question of which model is the best-built Sprinter RV. If you have other questions or thoughts about aspects I've left out, let me know!