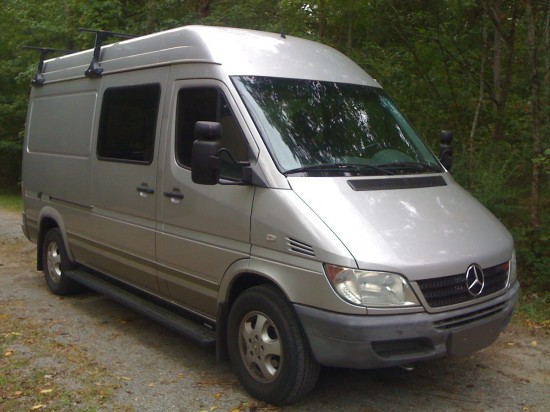 So you found a beautiful used Sprinter van you want, and you ask – what should I look out for?
First off, get a proper inspection from a qualified mechanic, preferably one very familiar with Sprinter vans – the Mercedes Sprinter van is a complex beast! Have your mechanic use a full-featured OBDII scanner to read all the DTC fault codes that are showing, if any. Remember that some of  the fault codes could be false – use these as indicators of possible problems, and then check whether there is an actual problem.
For older T1N (2001-2006) used Sprinter vans, here's the super-short summary of possible mechanical problems to look out for:
"Black Death" – The most serious possible problem is injector leakage, a.k.a the "black death". The fuel injector hold-down bolts may get loose or the seals erode, and the injector seals may begin to leak, producing black goo ("coking") in the injector compartment on top of the cylinder head.  Despite the name, this problem does not mean the "death" of the Sprinter, but it can be a major repair, depending on how far it has progressed. To check for this, remove the 5mm Allen bolts securing the plastic valve cover and inspect the injector compartment for leaks.
Glow plug failures – Glow plugs on T1N Sprinters can seize into the cylinder head, making replacement a major repair. The Engine Control Module (ECM) monitors the glow plugs, and can issue a fault for glow plug problems. However, glow plugs should not be replaced just upon the ECM fault codes, as these are often false.
Harmonic balancer issues – A very serious possible problem in 2001-2005 models, but hard to identify correctly, with many possible symptoms: rough-running engine, lots of engine vibration which varies at different RPMs, damaged sensors, leaking crankshaft seals, etc.

Drive shafts and universals – Ensure that a mechanic checks the drive shafts and universal joints. Unlike many domestic vans, problems here can be fairly expensive.
Turbo resonator – On heavily-loaded 2004-2006 Sprinter RV conversions, the plastic turbo resonators often failed, at least until the Q5 resonator (see sticker on resonator for model version). A new plastic OEM resonator is around $50.00, a Riordan aluminum replacement is about $140.00. You can install this yourself.

"Rumble strip" noise – The NAG1 automatic transmissions used in NAFTA T1N Sprinters commonly make some chattering vibrations, like crossing a rumble strip. This may be worsened by incorrect tranny fluids (check your model year's service manual for the correct specification number). A heavy shudder around 2000 RPM under load may mean that the transmission fluid should be changed. There is also now an aftermarket repair kit that may help resolve this.
Heater fan – If the heater fan only works on high speed, the heater resistor has probably failed. The heater resistor is about $40, and you can easily replace this yourself.
Fuel line clips – Check the fuel line clips to make sure they are still holding the fuel lines in place. If the fuel lines are unclipped, they can wear through and begin leaking, and worn fuel lines can cause starting problems.
No cold air from the A/C – If the air conditioning won't blow cold air, there might be a hole in the condenser. The condenser on T1N Sprinters is close to the ground, so this is a common issue with older T1N Sprinter vans.
Remote door locks – Make certain they are all in working order. You may just have to clean the door contact units.
Wiring harness wear – On some T1Ns using the OM647 engine, three bundles of wiring (the "loom") cross a bracket next to the fuel filter and then are routed into the cabin. If the insulation on any of these bundles becomes worn through from rubbing across the bracket, it can cause random engine power loss or electrical problems.
EGR valve – There may be a black oily film over the driver's side of the engine. If so, don't panic, this may just be from the Exhaust Gas Recirculation (EGR) valve – an EGR valve drips oil. However, it should be replaced every 70,000 miles (about $500).
This is just a short and basic summary of Sprinter-specific issues to watch out for (don't forget about the universal issues with any used vehicle, like brakes, tires, transmission, etc). More details (including a year-by-year breakdown of possible mechanical problems, and more inspection tips) are available in my Sprinter RV Conversion Sourcebook.
What do you think? Does this list include most of the major issues? What others have you heard or read about? Let me know…
(Photos of 2004 Sprinter courtesy of Mike Davis, Tuscaloosa, AL)