Sprinter RV Affiliate Program
Hi, my name is Greg Keith, and I'd like to invite you to join my Sprinter RV affiliate program. If you run a Web site about RVing, camping, climbing, mountain biking, kayaking, hiking, or any other outdoor or travel related activities, you'll make extra income every month by joining my commission program.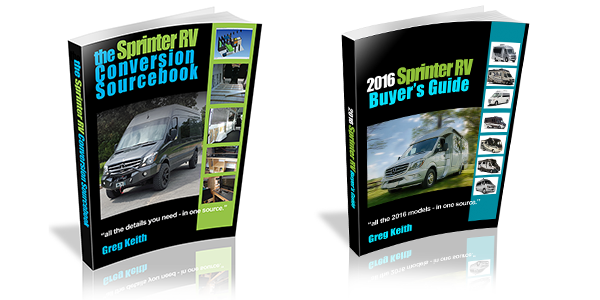 I'll pay you a FULL 50% commission every time your referrals buy! That means for every visitor you send me who purchases a book, you earn US $17-18. My visitors often buy both my books, in which case your share is US$36! My company is a BBB-accredited business with an A+ rating, and you won't find any negative reviews, just satisfied customers.
What Makes My Affiliate Program So Amazing?
How about this:
I do all the hard work for you. I provide banners for your Web site, I do the selling through my sales pages, all the customer contact and follow-up work, including tracking analytics, ROI, book research & updates, sales page updates, site maintenance, site updates & blog posts, refunds, inquiries, all the things you don't have to mess with.
My guaranteed tracking system (through E-junkie) means you always get your commission on time!
Your commission is paid monthly (around the 15th), the month after the sale and deposited directly into your PayPal account.
You don't need any minimum earnings, and you won't pay any penalties for time without sales.
You get a 50% commission on every sale!
It literally take just a few minutes to join and set up.
And you are promoting a great pair of thoroughly-researched, comprehensive books:
The Sprinter RV Conversion Sourcebook (378 pages, 7th edition released April 2016) is the most comprehensive guide that exists to building your own camper van conversion. I've been developing this book since 2010, and it's only gotten better over the years, even Mercedes salesmen are buying it!
The 2016 Sprinter RV Buyer's Guide (338 pages, released March 2016) is the most detailed, thorough guide to Sprinter-based motorhomes out there. I produce a new version of the Buyer's Guide every year, so it's always up-to-date!
Each book will help RVers save hundreds of dollars (and I'm working on more books too). It's a "win-win" situation for everyone!


How to Join The Sprinter RV Affiliate Program
To join my affiliate program, all you need to do is follow three easy steps:
Create a PayPal Account – If you don't already have one, set up a free PayPal account so I can securely send you commission payments.
Create an E-junkie Account – Take two minutes to sign up with E-junkie.com as a Sprinter RV affiliate. There's no cost involved. All purchases and your commission payments are guaranteed by E-junkie, as well as by me, and handled securely through PayPal.
Set Up Links and/or Banners – Once you have an E-junkie account, click 'Affiliate Admin'. Select 'HiRes Media' as the affiliate program, scroll down and select a product (either the Sourcebook or the Buyer's Guide), and you'll see a code snippet with the product hop link. Once you have one or both of the hop links in your Web site text or in emails or banners (check out the affiliate banner page), you're all set to start making sales! Any time a buyer clicks one of the links, they'll be taken to one of my book sales pages and a cookie (valid for 6 months) will ensure that you get credit, even if they return to my Web site at a later date to make the purchase.
Note: I review all my affiliate's Web sites. Although your account is activated immediately by E-Junkie, your affiliate application is subject to my final approval and may be cancelled if you do not provide a URL for the Web site or blog where you will be promoting my products. Submit your URL to me here. It's fine to leave the comment box blank or use it to send me a question or comment.
Important: You cannot sign up for the program just to get a 50% rebate on your purchase. The affiliate commission will NOT be paid if an affiliate buys the product themselves, unless there have been at least three previous sales made through your affiliate link and the 60-day money-back guarantee on those sales has expired.