Conversions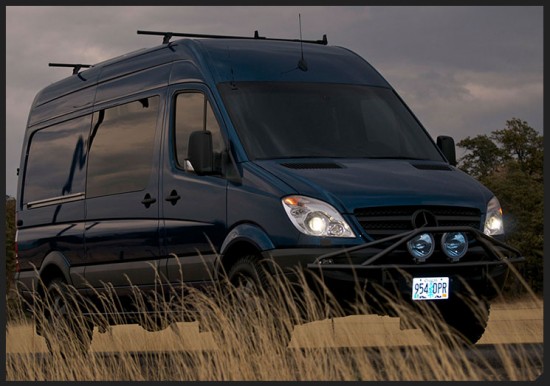 If you're in the US and want someone to build a custom Mercedes Sprinter RV conversion for you, there are plenty of companies ready to do the work. They range from lone-wolf Sprinter custom conversion pros to full shops that do all Sprinter conversion work in-house, so of course prices for the custom conversions differ enormously. Before you contact a company to do your Mercedes Sprinter RV conversion, do your homework:
Settle on your requirements– How many do you need to sleep? Will you go to campgrounds, or just camp out in the wild somewhere, without available AC power? How many days do you want to be able to camp without heading in for supplies? Do you want a van that can have camping equipment quickly pulled out and its configuration changed? How big a Sprinter RV are you comfortable with? How much can you afford to spend?
Compare quotes– If there are several companies in your area that offer Sprinter RV conversions, you can compare responses, especially any details on price and timelines. Some companies do "stealth" custom Sprinter RV conversions, which may be quicker and cheaper, other companies' standard offerings are luxury camper conversions.
Get a Quote
There are many companies that advertise custom Sprinter conversions. However, not all produce quality work. We can help you find a Sprinter custom  conversion company with a track record of satisfied customers. If you are interested in a quote from a well-reviewed conversion company near you, fill out the form below and we will forward your information on to a reputable conversion specialist close to your location.