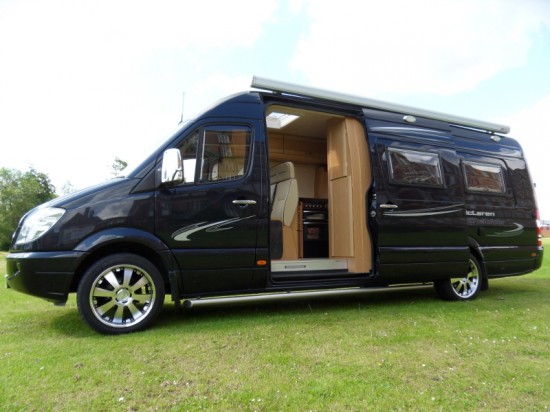 Happy New Year! If you've seen the new edition of Mercedes Owner, the online UK magazine, you may have noticed the piece on McLaren's new Shadow Sprinter conversion. I've written about McLaren's great Sprinter sporthomes/Sprinter toy haulers before, and I'm glad to see that their polished designs don't go unnoticed.
I asked Craig Lewis what was different about the Shadow design from other McLaren Sprinter campers:
"This vehicle was not designed for a specific customer, but created as a demonstration of our work. The scope was to build a luxury sports home that was to be 4-berth. Many 4-berth panel vans either come with no traveling seats for the extra passengers, or seats that are not crash-tested. With a new addition to my family, there is a need for extra traveling seats that are capable of carrying a baby seat with 3-point belts. We did not want compromise with anything on this vehicle and we have packed in an enormous amount of features and technology without making the vehicle seem cramped."
The Shadow fits 4 people, a common requirement, but not many Sprinter conversion designs are for four. How did McLaren come up with the sleeping space for 4? "As a clever use of space, we have utilised the front swivels and extra seats to form a small double bed. The rear bed is made up from the large u-shaped leather lounge. With this space-saving feature, it allowed us to have a good-sized rear garage / storage area."
The Shadow Sprinter RV  includes a host of great amenities, such as:
150-liter fridge/freezer (had to be suitable for a family of 4)
Dometic air conditioning
Very high quality leather (6 full hides in total)
Fully automatic satellite dome
Large rear-mounted TV/DVD with built-in HD satellite receiver
In the cab, Pioneer entertainment system, DVD player, stereo, reverse camera, iPod/iPhone-compatible with Parrot hands- free setup
4.5m awning
Blue and also white mood lighting, all dimmable
Fixed underslung LPG gas tank
122-liter freshwater tank
For more, see the pics below, the
Shadow page
on McLaren's Web site, and check out pages 26 and 27 of  
Mercedes Owner online
for the McLaren Sprinter conversion article.
Gallery – McLaren Shadow Sprinter Conversion