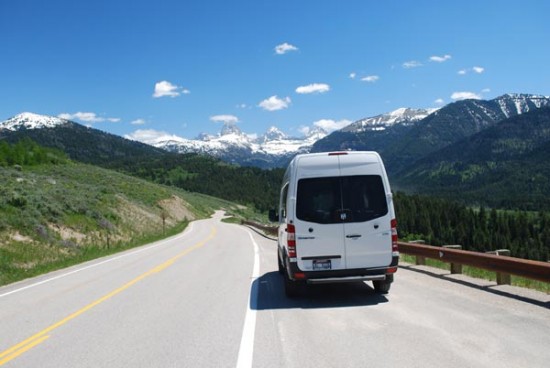 (UPDATED JUN 2017) you find a Sprinter for rent in North America? Google "Sprinter rentals" and you'll find some, but it's not so easy. You do have Sprinter van rental options on both the left and right coasts now, though:
And how about if you want to rent a Sprinter RV? Sprinter RV rentals are even harder to find, since they're less well-advertised. I wrote about renting a Sprinter RV last summer, but my list has grown – especially if you want to rent a more common model like a Winnebago View or a Roadtrek RS Adventurous, you have a few US and Canadian rental options now.
Here's my latest list of Sprinter RV rental/Sprinter van rental companies (as of June 2017):
Airstream of Chicago (Chicago)
1697 New Lenox Road, Joliet, Illinois
Email: [email protected]
Ph: 815-726-1900
Rents Winnebago Era, Airstream Interstate
Airstream Coach (Southern California)
Laguna Niguel, CA
Email: [email protected]
Ph: 949-495-1609
Rents an Airstream Interstate
American RV (Michigan)
201 76th Street SW, Grand Rapids, Michigan
Email: [email protected]
Ph: 877-863-9527
Rents Class B Roadtrek RS Adventurous
Campervan North America (Multiple)
Seattle, WA, Bozeman, MT, and Las Vegas, NV
Email: [email protected]
Ph: 208-712-8100
Rents Class B 144″ Two4TheRoad and 170″ Clanhauler Sprinters
Classic Adventures RV (Reno)
2802 Kietzke Lane, Reno, Nevada
Email: [email protected]
Ph: 866-825-8141
Rents Winnebago View 24G and 24J Class C Sprinter-based RVs
Eat Sleep Go (Southern California)
435 E Baseline Road, San Dimas, California
Email: [email protected]
Ph: 909-489-3821
Rents a 2012 RoadTrek RS Adventurous
Going Places RV Rentals (Phoenix)
Glendale, Arizona
Email: [email protected]
Ph: (623) 221-1161
Rents Class C 2006 Winnebago View
Good To U Auto Center (Pennsylvania)
Rt. 272 Akron and Rt. 23 New Holland, PA
Ph: 1-800-378-2803
Rents Class B 2008 Great West Sprinter Legend and Sprinter passenger vans
Guaranty RV (Oregon)
487 West First Avenue, Junction City, OR
Ph: 1-888-454-9758
Rents Class B 2014 Winnebago Era
Owasco RV (Toronto)
2000 Champlain Ave, Whitby, Ontario
Email: [email protected]
Ph: 905-683-2267 or 866-579-2267
Rents Class B RoadTrek RS Adventurous and Class C Winnebago View
Roadtrek Rentals (Multiple)
Twenty-three rental locations in eleven states (California, Arizona, New Mexico, Oregon, Idaho, Utah, Nevada, Montana, Wyoming and Washington)
Email: [email protected]
Ph: 415-300-7269
Rents Class B RoadTrek RS Adventurous
RV Northwest (Portland)
4350 SW 142nd Ave, Beaverton, OR
Ph: 503-641-9140
Rents Itasca Navion, Forest River Solera and Forester MBS, Thor Siesta Sprinter
RV Rental By Advanced (Cleveland)
4590 Hamann Industrial Pkwy, Willoughby, OH 44094
Email: [email protected]
Ph: 440-283-0443
Rents Advanced RV Ocean One
Southern California Sprinter RV Rentals (Pasadena, Pomona)
3817 Valley Blvd Walnut, CA 91789
Email: [email protected]
Ph: 626-622-2500
Rents Pleasure-Way, Navion, Roadtrek
Traveland RV Rental (Vancouver)
Traveland RV Supercentre
20529 Langley Bypass (Hwy #10), Langley, BC
Ph: 604-530-8141 (toll-free: 1-800-513-9434)
Email: [email protected]
Rents Class C Itasca Navion, Class B Winnebago Era
US Adventure RV (Iowa)
5120 North Brady Street, Davenport, Iowa
Email: [email protected]
Ph: 877-768-4678
Rents Class B Winnebago Era
Also, don't forget a couple of the newer kids on the block: RVShare and Outdoorsy also list plenty of Sprinter-based RV rentals. Choose Class B or Class C motorhomes, your location and time period, and you're sure to find several Sprinter-based choices.
ASKING YOUR FEEDBACK: Any other companies that rent Sprinter vans or Sprinter RVs that I've missed? Let me know, write a comment!