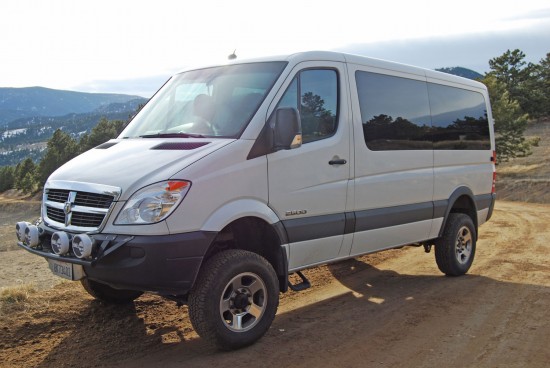 Last month I had the good fortune to drive the first production North American 4×4 Mercedes Sprinter, after the initial Sportsmobile and Sportsvan prototypes. Jim Bageman, on a cross-country tour with Whitefeather Conversions' Sprinter 4×4 van, stopped by and let me play with this sweet toy, a 4×4 Sprinter conversion using a 2007 144″ WB Sprinter 2500 low-roof cargo van.
Unseasonably fine weather meant I had more steep, loose, washboard roads to drive the van on than the muddy, icy streets that usually abound in Boulder this time of year. The van was very composed on the steep track I set it on, nimbly powering its way around soft-shouldered corners without any drift. The suspension feel is very firm, but not overly harsh – though the Whitefeather conversion keeps the stock Koni front struts and shocks, a burly reinforced coil spring mount is welded into each front wheel wheel and attached to the subframe. Adjustable Rancho shock absorbers on the rear axle allow you to adjust the ride for stiffness or heavy loads. The 4.5″ increase in ride height on the van I drove is 1″ higher than the stock 3.5″ increase in ride height for the typical conversion, but didn't seem to generate any instability (although I didn't drive the van at highway speeds).
Craig Jackson, one of the founders of Whitefeather, has lots of experience with 4×4 Sprinter conversions from his days with Salem-Kroger. What does Craig think are the best features of the Whitefeather 4×4 Sprinter conversion?  "The strong points of the Whitefeather design are that:
we build our conversion using easy-to-find parts
the Sprinter still scans as a stock vehicle
the Sprinter engine and transmission remain stock and unaltered
the ride quality is comfortable
the cornering ability is better than stock
we can adjust shock rates, sway bar sizes and even vehicle height to meet specific customer requirements while maintaining the same basic proven system
 Whitefeather Conversions intended for the US market are all US DOT legal."
Here's some pros and cons I observed during my brief time with the van. The pros:
Very tight steering
Almost zero lean and body roll, helped by the heavy-duty front and rear anti-sway bars
Reliable 4×4 mode selection using manually locking hubs (optional front air lockers)
Smooth 4WD mode selection with long-throw floor shifter
Very beefy new front subframe of heavy-gauge steel
The cons:
Conversion adds almost 500 pounds to vehicle weight
$20,000 additional cost
There's plenty of 4×4 Sprinter conversions rolling out of Whitefeather's Red Bluff, California, shop. What if you're not in California? Patrick Struhs, Sprinter sales manager for Warner Truck Center in Salt Lake City, the largest Sprinter dealer shy of the West Coast, says he'll be stocking some: "We have arranged to purchase one of the Whitefeather Sprinter conversions, and depending on interest, we may buy more." What's Pat's opinion of the Whitefeather conversion? "We brought it back into the shop and the mechanics, all the mechanics, went nuts over it. They thought it was really well-built. Of course, the fact that it uses readily-available Ford 4×4 conversion parts is another big plus, since those parts are easy to get and lots of folks know how to work with them." Pat is also impressed with the way the Whitefeather 4×4 Sprinter handles, having driven it up to Park City to show some potential customers. Warner Truck Center has been selling Sprinters since 2002, so Pat has seen his fair share of Sprinter vans.
This Whitefeather Sprinter van is off to New Jersey to be examined by Mercedes-Benz executives. Will Daimler Vans USA give its stamp of approval to the Whitefeather Sprinter conversions, rather than (or in addition to?) importing factory-modified Mercedes 4×4 Sprinters into North America? It's anyone's guess, at this point.
Gallery – Whitefeather 4×4 Sprinter Conversion
ASKING YOUR FEEDBACK: Would you pony up the extra $20K for a 4×4 Sprinter conversion, get an E350 4×4 instead, or will you wait for an official Mercedes 4×4 Sprinter to come to North America?