Why Choose a Sprinter?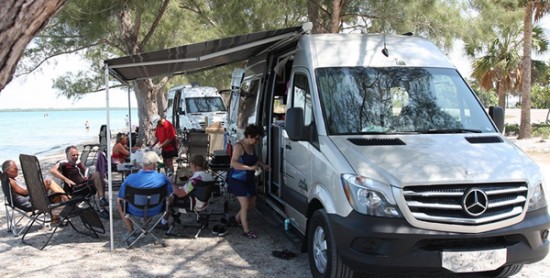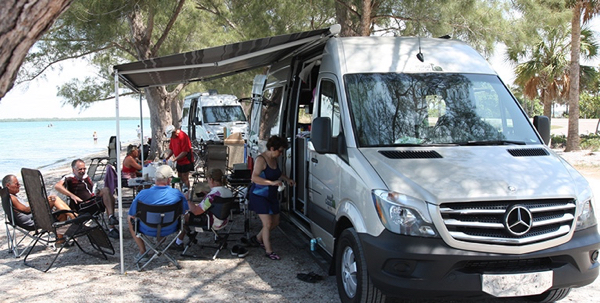 You might be thinking that a Sprinter looks slick, but what's really so great about it? Is it worth almost $40,000? It's Mercedes-built, you say, but Mercedes is in Germany – what if I have a problem, will I be left with an expensive broken van and unable to find a mechanic who will work on it? And does it really get such good fuel mileage?
History of the Sprinter Van in North America
First, you should know that all Sprinter vans in North America (and globally) are Mercedes Sprinters. The ones imported into North America are made at the Mercedes factory in Dusseldorf, then the engine is removed and engine and body are crated into two separate crates. Those crates are shipped over to Ladson, South Carolina, where they are re-assembled into an "American-made" vehicle. This cumbersome process is necessary because of the "chicken tax".
In 1998, Daimler merged with Chrysler to form DaimlerChrysler. When Sprinter vans were first imported into North America in 2002, some Sprinters were re-badged as Dodge Sprinters. Since DaimlerChrysler also owned Freightliner, the biggest North American heavy truck manufacturer, some were also badged as Freightliner Sprinters. In 2007, Chrysler was split off from Daimler, and in MY2010, the Dodge badge disappeared from Sprinter vans. From MY2010 until the present, you'll find Freightliner- and Mercedes-badged Sprinter vans in North America.
Dodge dealerships no longer service Sprinter vans. Freightliner and some Mercedes dealerships (about 230 dealerships in North America as of 2016, all told) offer service and warranty work on both Freightliner- and Mercedes-badged Sprinter vans today.
North American Mercedes Sprinter vans are of two main kinds:
the T1N Sprinter (MY2002-MY2006) – this Sprinter van was available in 118″, 140″ and 158″ wheelbases, and high-roof (HC) and super-high-roof (SHC) Sprinter 2500 and Sprinter 3500 models. Passenger, cargo, crew (a cargo van with a second-row bench seat) and cab chassis versions were available. Sprinter 2500 versions are single rear wheel (SRW), Sprinter 3500 versions are dual real wheel (DRW). It was equipped with either the OM612 or the OM647 2.7-liter turbodiesel engine.
the NCV3 Sprinter (MY2007+) – this Sprinter van is available in 144″, 170″ and 170″EXT (extended) wheelbases, and high-roof (HC) and super-high-roof (SHC) Sprinter 2500 and Sprinter 3500 models (mega-roof version available on Sprinter 3500 170″EXT chassis). Passenger, cargo, crew (a cargo van with a second-row bench seat) and cab chassis versions are available. Sprinter 2500 versions are single rear wheel (SRW), Sprinter 3500 versions are dual real wheel (DRW). It is equipped with either the OM651 2.1-liter turbodiesel (with 2-stage turbo, introduced in MY2014) or the OM642 3.0-liter turbodiesel engine (with single-stage variable-geometry turbo). The OM651 is rated at 161hp, with 265 lb-ft of torque @3800 rpm. The OM642 is rated at 188hp, with 325 lb-ft of torque @3800 rpm.
In MY2010, like all diesel vehicle manufacturers who needed to meet the new EPA emissions standards, Mercedes introduced a new Bluetec emissions system on Sprinter vans. The older system had used a DPF (diesel particulate filter) and EGR (engine gas recirculation) valve to catch particulates. The newer system uses an SCR (selective catalytic reduction) system with DPF, EGR, and twin SCR chambers, and also uses DEF (diesel exhaust fluid). The Mercedes-Benz formulation of DEF is known as AdBlue, but it's the same DEF fluid using urea as any other DEF fluid. Mercedes diesels with this newer emissions technology are badged as Bluetec diesels. Is this system a "fatal flaw"? Some people have experienced issues with this emissions system (sensors that went bad, clogged DPFs and EGRs), many have not. I've had 2011 and 2016 Sprinters with this emissions system, and never had any issues.
Advantages of the Sprinter Van
What's so great about the Mercedes Sprinter anyway? Well, how about these things:
It's powerful and fuel-efficient – Want a large van that is also fuel-efficient? With the older 2.7L turbodiesel (up to 2006), the 154-hp 3.0L turbodiesel (2007-2009), or the newer 188-hp BlueTEC turbodiesel (2010 onwards), you have a great combination of power and fuel-efficiency. At speeds from 40-70 mph, because of the amazing torque of the turbodiesel engine, you have the passing power and quick response of a full-sized turbocharged sedan.
The handling is remarkable for a vehicle this size, and this tall– If you have driven other high-roofed vans, you'll be surprised at the way this van corners, and its stable feel at highway speeds, even in high winds (the internal height on a high-roof Sprinter is 6'4″, the high-roof van measures roughly 9′ tall overall). The cornering, acceleration and deceleration are ably assisted by the much-lauded Adaptive ESP system, which includes anti-skid braking, Acceleration Skid Control, Load Adaptive Control, electronic brake force distribution, brake assist, Roll Over Mitigation, and understeering control, giving a rock-solid feel on the road, even fully loaded.
It's got all the amenities of a modern passenger car in a van– Everything you would expect in a modern vehicle is already standard: Driver and front passenger airbags (and optional side-curtain airbags), electronic braking, ergonomic controls, power locks, power windows, heated mirrors, with tons of possible additional options – check out the Dealer Ordering Guides for common configurations, and the Special Equipment Book describes the details on each option and option package.
Great interior room for a camper conversion – Most like the high-roof Sprinter cargo van the best as a base conversion vehicle, given the interior roominess. A 144" wheelbase high-roof cargo van has an interior height of 76 inches (6'4") , 70 inches wide (5'10"), and 128 inches (10'8") from the back of the front seats to the rear door. That's plenty of room for many 2-person camper vans, or get a 170″ or 170″EXT wheel base van for a family camper van base vehicle.
Strong aftermarket and conversion specialist support– There are many companies specializing in parts and accessories for Sprinter RVs, from full-blown high-end Sprinter RV factory conversions to small custom parts suppliers producing 4×4 conversion kits, aftermarket windows, off-road accessories, interior fittings, etc.
Is it worth $45K? The MSRP for a brand-new high-roof 144″ Sprinter cargo van is around $45,000, as of 2016. However, Sprinters are available at many price points both used and new, since there are so many different configurations.
The older generation (T1N) Sprinter vans (available in North America from 2001-2006) are cheaper and more plentiful. Like any vehicle, they may have specific mechanical issues (some of which I described in this post about possible problems with older Sprinter vans, and some of which I detail in my Sprinter RV Conversion Sourcebook), but the 2.7-liter turbodiesel in the earlier Sprinters gets better fuel mileage, although it has less power than the newest generations' 3-liter OM642 turbodiesel, and is mechanically somewhat simpler.
I feel your pain, and I would say if the cost is an issue, think about buying an older T1N Sprinter – you will find it harder to get low-mileage examples, and it will lack the refinements of the newer generation, but it's less of a hit to the wallet, and it has most of the advantages of the newer Sprinter. If you have the cash, I would say get one of the newer-generation NCV3 vans, from 2008 onwards (skipping 2007, given that this was the first year of the new generation and some bugs were still being worked out).
What about the "expensive broken van" issue, and finding a mechanic? All Sprinters have been built by Mercedes, regardless of their grille badging, and Mercedes has a justified reputation for quality. This is not a bleeding-edge product, but the result of continuous design refinement, resulting in the current NCV3 van. There is a huge fleet of Mercedes Sprinters on the roads of Europe (Mercedes estimated in 2011 over one million Sprinters had been manufactured), and about 230 Freightliner and Mercedes dealerships in North America (as of 2016) selling and servicing Sprinters, not to mention the numerous Sprinter RV conversion specialists. There are many mechanics at Freightliner and Mercedes dealerships who now have a decade of experience working on North American Sprinters. However, the Mercedes is a complex modern vehicle, with a CAN BUS computer network that connects with hundreds of onboard sensors. Its sophistication gives it excellent power, handling and fuel-efficiency, but it is not like the simpler US domestic vans of the 1970s and 1980s. Like any vehicle, keep it well-maintained, drive it often, use only MB-approved oil and change it regularly, and you'll minimize your chances of any mechanical issues.
Does it really get such great fuel mileage? In a word – yes. Depending on the weight of your final Sprinter RV, the Sprinter has astonishing fuel economy compared to almost any other RV: 18-22 mpg is not exceptional among Sprinter drivers, and mileage has been reported as high as 30 mpg for an older 2.7-liter Sprinter driving at 55mph. Don't believe it? Check the posted fuel economy statistics for the Mercedes Sprinter van on Fuelly. Here's some variables that affect fuel economy:
Smaller engine – The 2.7-liter diesel sips less fuel than the 3.0-liter engine, which is a no-brainer. The most impressive reported fuel mileage I've seen is 32 mpg, reported for a night trip at 55mph in a 2004 Sprinter 2500 170″ high-roof with a 2.7-liter diesel engine. Less power too, but that may not be an issue…
Diesel Particulate Filter (DPF) – Pre-2007 Sprinters don't have one. But a dirty DPF in a post-2006 Sprinter affects mileage – the Sprinter cleans its own DPF periodically by burning off the particulates in a process called "DPF regeneration", but you may need to commercially clean the DPF or replace it, eventually.
Axle ratio – If you have a Sprinter passenger van, you might have a 3.92 axle ratio. But often a Sprinter 3500 may have a 4.10 or 4.18 axle ratio, and these will carry loads better, but have poorer fuel mileage.
Load – If you're towing a trailer, or have a Sprinter RV conversion that is sagging on its springs, you know your fuel mileage isn't going to be the best!
Speed – More speed requires more RPMs, and more fuel. Most Sprinter owners say 55-60 mph will get you the best mileage possible.